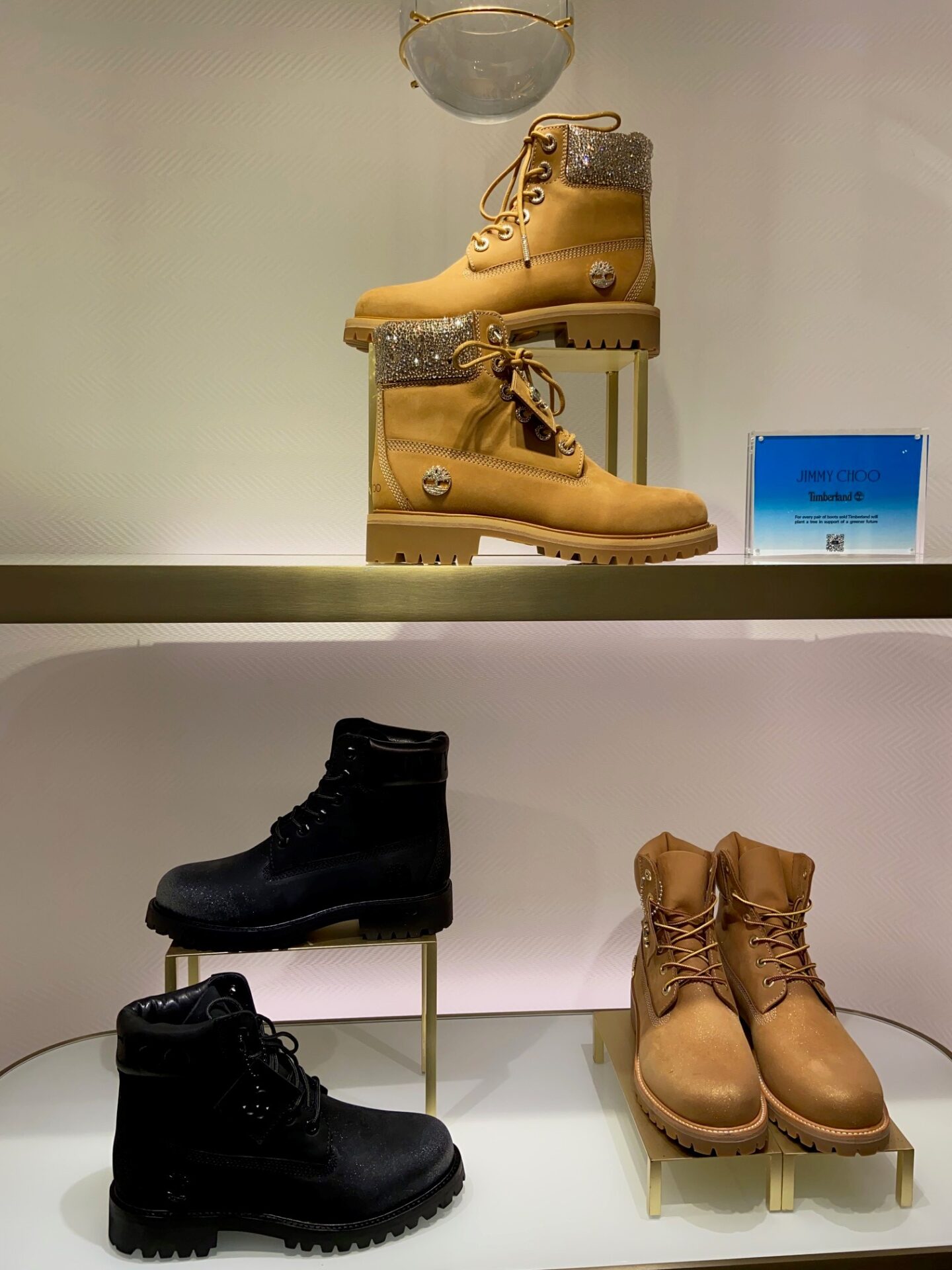 My Initial Thoughts
I remember when Jimmy Choo first announced their collaboration with Timberland earlier in the year and my honest thoughts on it… "No way. There is no way this is going to work, it's too weird!" Where I was raised, construction workers were the usual wearers of Timberland and bedazzling them just seemed strange to me. After that, I didn't really give more thought to these sassy little combat boots even though I've always been a lover of Jimmy Choo shoes. They're beautiful and comfortable, something which isn't that easy to come by in the world of luxury. Plus, they're often embellished with beautiful gems and sparkle beautifully in the light. What's a girl not to love?! As for Timberlands, I never had a pair because the typical wheat color wasn't my style.
Change Of Heart…
Fast forward to October and my beloved pair of Guess combat booties broke on me! So, here I was, on the hunt again for a new pair of combat booties that would last me longer than a year. I hop on Youtube to get some shoe inspiration, and I fall upon a Harrod's shopping vlog and the collaboration was featured on there and boy oh boy, it was SICKENING. I didn't even realize there was a black pair! Jimmy Choo's campaign didn't do them justice in my opinion. Then, panic rose as the sales associate stated that they were selling out left and right and I HAD to have these boots!
So, there I went, like a dog to a sparkly bone, for these combat booties that I dismissed months prior! The irony… I didn't know their sizing well enough to order online, so I called the closest Jimmy Choo boutique to me and fell upon the most wonderful sales associate! After re-enforcing my fear that the boots were about sold out, she said she'd give me a call back. About 10 minutes later, I get the call that not only they have a size 8 in the beautiful black pair, but also an 8.5! These were the last size 8/8.5 left in the store for all three Jimmy Choo X Timberland boots they carried and I clearly took that as a sign they were meant to be mine!
Trying Them On
Off I went to the boutique to try on these beauties and I was NOT disappointed. Check out the video below of me trying them on! The size 8 was great, but to be honest, I could've sized down to a 7.5, however I wanted the extra room in order to pair them with thicker socks for the cooler months. Plus, I didn't want to push my luck with the lack of sizes! As for comfort, I am satisfied. They feel great and so far they haven't hurt my feet more than the usual discomfort you get from initially breaking in a pair of new (leather) shoes. As a side note, this was probably the best luxury experience I've had in a while. The sales associate was sooo charming!
Okay, but can we talk about the sickening silver glitter under the lights please?!
Styling these is a dream! Like any combat boot, you can throw them on with just about anything and it looks great. I'm a fan of pairing them with skinny jeans and a turtleneck sweater or some tights and a skirt/dress! But if I'm being honest, I have totally paired them with Lululemon leggings and a hoodie. No shame. Just keep in mind they are extra with the glitter, so you don't want to have too much going on in your outfit, even though I don't find it too overwhelming. I'd stick to classic neutrals for these babies and let the shoes be the star like they deserve!
My Verdict
For my honest thoughts on the Jimmy Choo x Timberland collaboration, I LOVE them! I've been wearing them for about a month now and the only complaint that I have is that my jeans/leggings don't tend to stay tucked into the boot. It's a bit annoying, but it's something I'm used to with other pairs of shoes that I own. It's tolerable! They are comfortable, stylish, and the perfect amount of chunky. 10/10 would recommend!
What do you guys think of this collab?
You can find them at:
Net-A-Porter (here)
Farfetch (here)
Ssense (here)
XO, Tess
Subscribe
**Some of the above links are affiliate links, which means I get a small commission if you buy something using my link. You don't have to use them if you'd prefer not to. You do NOT get charged extra for using the above links.