A great gateway into the world of luxury would be the wide assortment of small leather goods that are offered. In terms of luxury prices, they're more afforable and therefore, easier to justify. However, it's not uncommon for SLG's (small leather goods) to not be worth the money. Often, you're better off saving for that YSL bag instead of splurging on multiple small leather goods. However, there are some pieces out there that I highly recommend! And others… Not so much. I own four different small leather goods from Gucci, Louis Vuitton, and Yves Saint Laurent. I'll be going over each of them in detail and whether or not I think they're worth the splurge!
Small Leather Goods: The YSL Card Holder
I'll start off with the OG of my luxury small leather goods collection. I bought this bad boy at the same time as my YSL Collège Bag (which I reviewed here). I'm not the type of gal who needs a matching purse and wallet, but I did want to invest in something better than my massive Kate Spade long wallet I was sporting at the time. I was in the market for something sleek and compact that I could fit anywhere with ease. Well, this card holder does the trick! I've owned her for over two years now and she still looks almost brand new. I just toss her in my bags without a care in the world and she hasn't scratched. The only sign of wear and year that I've seen is on the lettering; it is fading ever so slightly.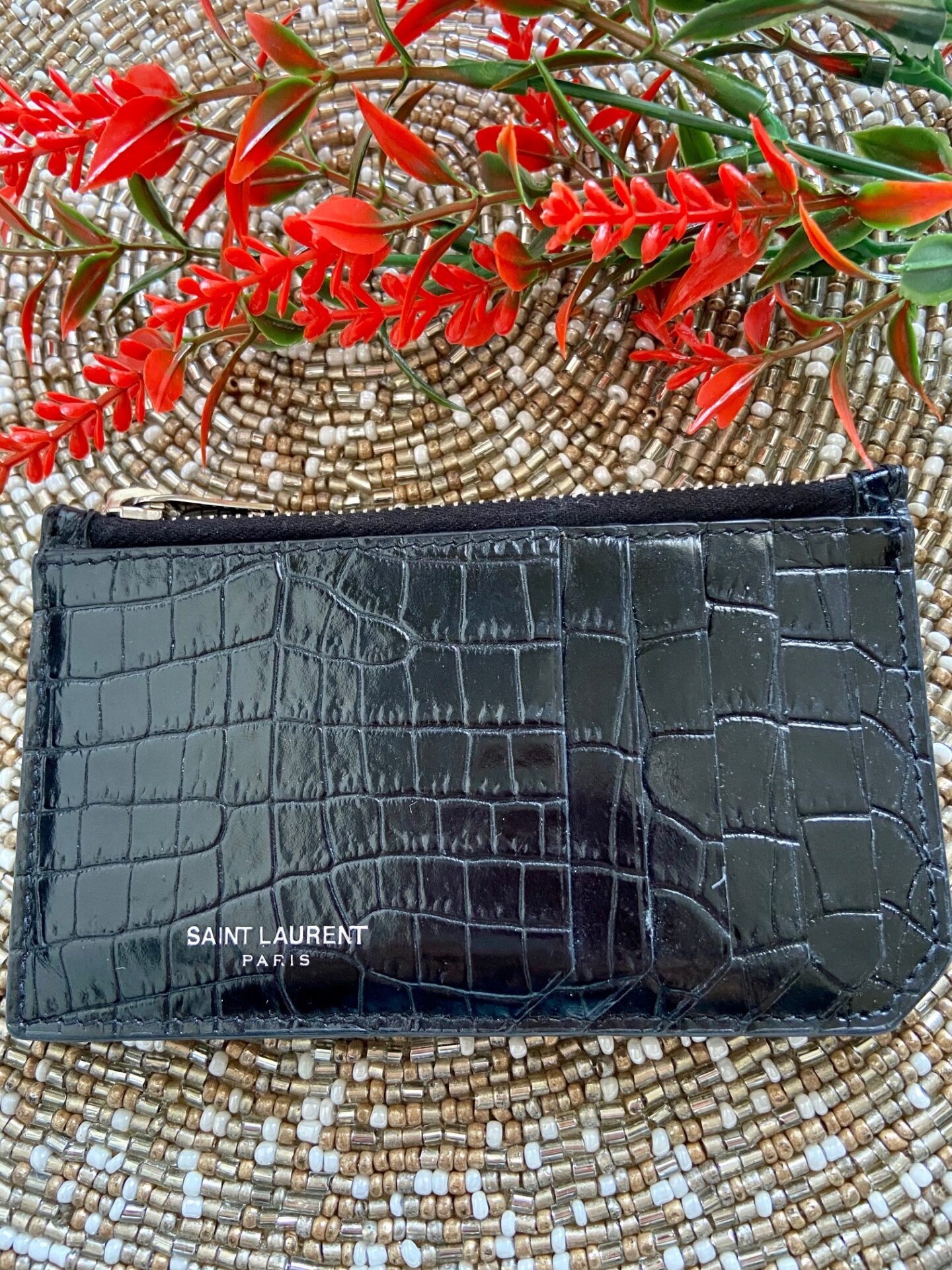 My favorite part about this card holder is how EASY it is to carry around! It doesn't take up any space and it kept me from hoarding all of those store cards in the US since she only has five slots. There is a zip pocket in the back, but I avoid using it so that it doesn't stretch out too much. I don't like a bulky wallet look. Actually, I bought a separate wallet to hold my change for that reason. If you're just needing something lightweight, sleek, and classy for a few cards, I HIGHLY recommend the YSL card holders. I gifted my mom one as well and she absolutely loved it (sadly, it's lost now 🙁 ) and had zero complaints. Price wise, for luxury, I think they're very reasonable, like most YSL accessories. I highly recommend this one, especially if you aren't too keen on carrying cash.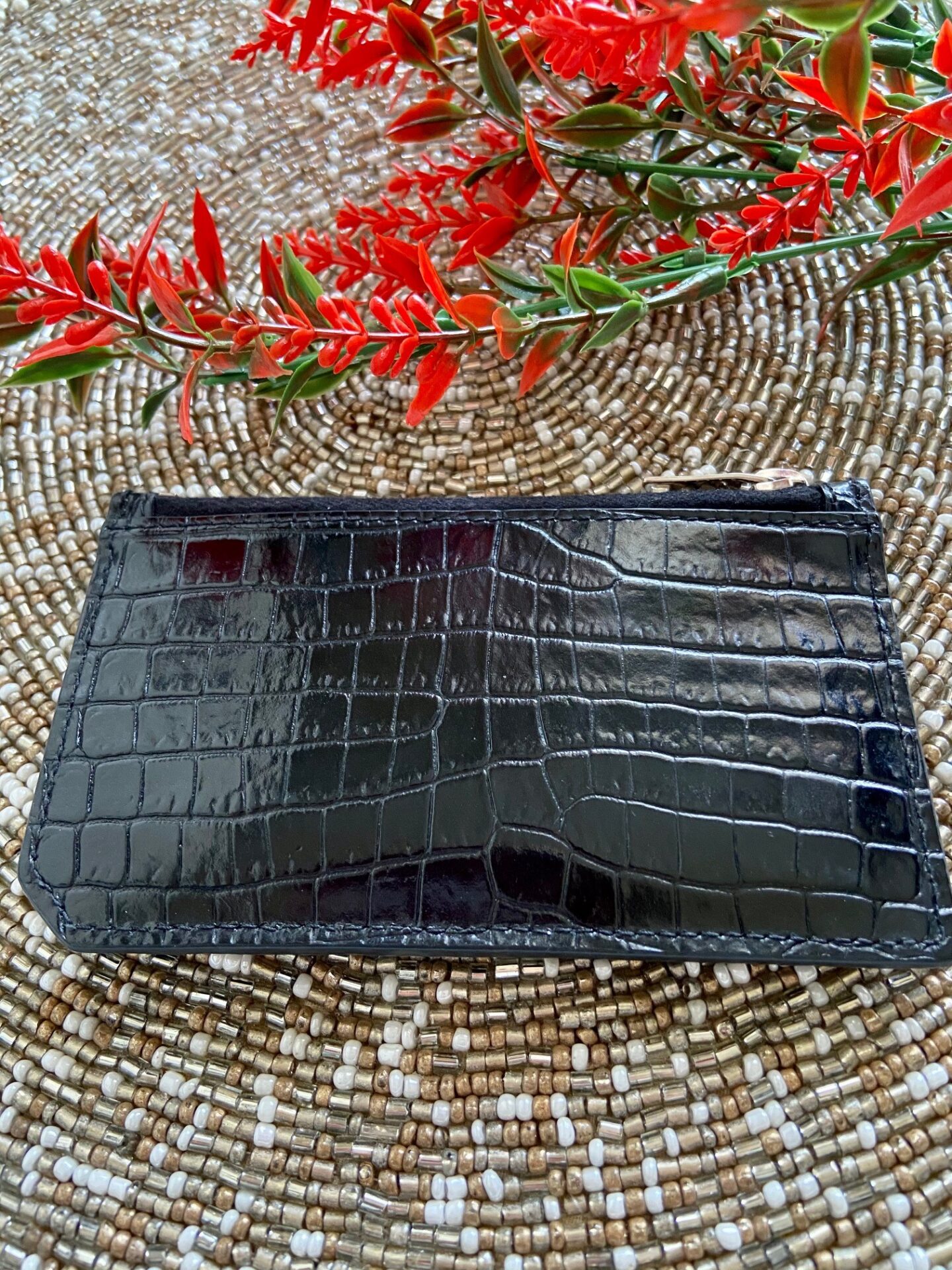 Small Leather Goods: The Gucci Wallet
As mentioned above, I decided to invest in a 'more regular' wallet in order to keep my change. I went for this particular wallet because I was in LOVE with the bee print! I find it absolutely adorable and I'm all for saving the bees. There is a slight mark on it which I've had since I purchased it, but sadly I didn't notice it until all of the tags were removed. Other than that, I think it's held up very well. The inside is slightly scratched, but that's to be expected with softer leather. I honestly wish I had more occasions to use this wallet, but I don't. Most of the time it's easier for me to use my card holder. I don't have to worry about opening/closing the wallet and I hate being that person who takes too long in line.
Also, this wallet is a little chunky for half of my purses, which doesn't help. As of right now, I can only fit it comfortably in two purses (Versace La Medusa & Louis Vuitton Pochette Métis) and MAYBE squeeze it in another (YSL Collège), but it would be overstuffed. To be honest, this wallet is super compact and has tons of compartments, but depending on the bag, it takes up space. If you're the type of gal who tends to favor medium/large bags over smaller, more convenient ones, I think it's a great wallet! Sadly, it just doesn't work for my lifestyle, but I still love it and I don't plan on selling it. It has lots of little slots for cards, a decently sized zip compartment for coins with another compartment in the back for more cards, and an opening on the side in order to fit bills without needing to fold them.
This wallet is personal choice; if you absolutely love it and would use it as your day to day wallet, go for it! However, if you're on the fence about it or prefer a smaller (or larger!) size, I'd skip over it. It's not a necessity.
Small Leather Goods: The Louis Vuitton Six Ring Key Holder
This small leather good ended up being SO much better than I anticipated. I've always hated regular keychains as I find them very loud and gaudy. So, when I discovered that key holders were a thing, off to Youtube I went for reviews! This SLG is either loved or hated; there isn't a middle ground. If you're happy with your key holder situation, I wouldn't even bother to invest in this. However if you're like me and can't stand the chunk, do look into it.
First off, it forces you to remove those key charms (I had SO many) since there are only six key holders. While you can double stack keys, I avoid doing this as to keep it sleek. This makes it much easier to find the right keys quickly and efficiently. I rarely have to fumble with my key holder in order to find the right key for the situation. All of the keys should fold nicely into the wallet. HOWEVER, most car keys will not. What I usually do is I keep all of the regular keys inside and I flip the car key holder out so that it just hangs outside of the wallet and doesn't chunk up the small leather good. Do keep that in mind if the car key situation is a deal breaker for you.
As for wear and tear, I barely have any signs of it. The leather I picked for mine is quite durable and has done a great job. It is also from the men's collection as I didn't want any obvious logo branding and their stuff is often more 'low-key'. There is a slight 'LV' imprinted in the corner, but it's barely noticeable. As for the monogrammed versions, I'd do a little extra research on the leather that's used for the inside. In general, canvas is hardwearing, but the inside is just leather (and I'm not sure if it's grained or not) and not canvas. The key rings are still in perfect condition and they're also quite easy to work with; I have yet to break a nail on it! 🙂
This isn't a must-have purchase unless you're dealing with key scratchings in your purse or if you absolutely despise your current key holder situation. Even there, I'm sure there are nice dupes/alternatives for it.
Small Leather Goods: The Gucci Passport Holder
Okay, this one was 100% an impulse decision. I purchased it right before I moved back to France. I wanted a passport holder in general to store both of mine, but I decided to go all boujee and get a luxury small leather good instead of something more afforable. While I ABSOLUTELY love this, I honestly never use it. Thanks to the pandemic, it's not like we are doing much travel, so it tends to just catch dust. However on the rare occasions where I need to go somewhere with my passport, you better believe I'm using it.
For wear and tear, I can't speak on it much since I haven't been able to use it as often as I'd like, but I'd say it's fine. It's a mix of coated canvas, leather, and fabric. I've never had a problem with Gucci before and I don't think this SLG will be any different. It is a VERY bold piece and to be completely honest, I'd pick and choose where you bring this. I recently brought this to Monaco, which was honestly the perfect place. However, some countries see a passport holder that bold and that obvious (I mean, it SCREAMS Gucci), you may become a target of theft.
While I think it's stunning and I love mine, I wouldn't recommend it. It's expensive for what it is and it definitely increases your chances of getting robbed/mugged. If you're a frequent traveler to more 'luxurious' areas (Monaco, New York, Dubai…), MAYBE you can justify it. However, I'd just say go for a non-luxury passport holder or something that's much less obvious and in your face. In the end, it's all up to you and if you're comfortable sporting an obvious piece that holds your valuables!
Final Thoughts on the SLG's
So, as a re-cap, the only SLG that I own that I can recommend without a doubt in my mind is the YSL card holder! While I love ALL of my luxury small leather goods, I'm not afraid to admit that I got swept up in the SLG game and some of these weren't necessary purchases. In the end, what you consider essential is up to you and perhaps for your lifestyle. Some of these will make sense, while others wouldn't. As always, do your own research before committing to an investment piece. 🙂 For me, the only SLG I have my eye on is an actual coin holder from Louis Vuitton, but that won't happen for a little while as I have other, more important, things on my luxury wishlist.
Subscribe
Make sure to subscribe in order to get a weekly email reminding you of my new blog post. 🙂 I appreciate you!
SLG Details
YSL Card Holder (here)
Gucci Wallet (here)
Louis Vuitton Six Ring Key Holder (here)
Gucci Passport Holder (here)

XO, Tess
**Some of the above links are affiliate links, which means I get a small commission if you buy something using my link. You don't have to use them if you'd prefer not to. You do NOT get charged extra for using the above links.