It's no secret that I'm obsessed with just about anything Versace, and the Versace bathrobe is no exception! I've had my eyes on this bad boy for a few years now after seeing it on a Youtuber for the first time. It looked luxurious, comfortable, and SO expensive (like a queen!)! I knew I had to have one, especially since France is constantly in and out of lockdown. Well, as Ariana Grande would say, 'I want it, I got it'. However, did it live up to it's hype?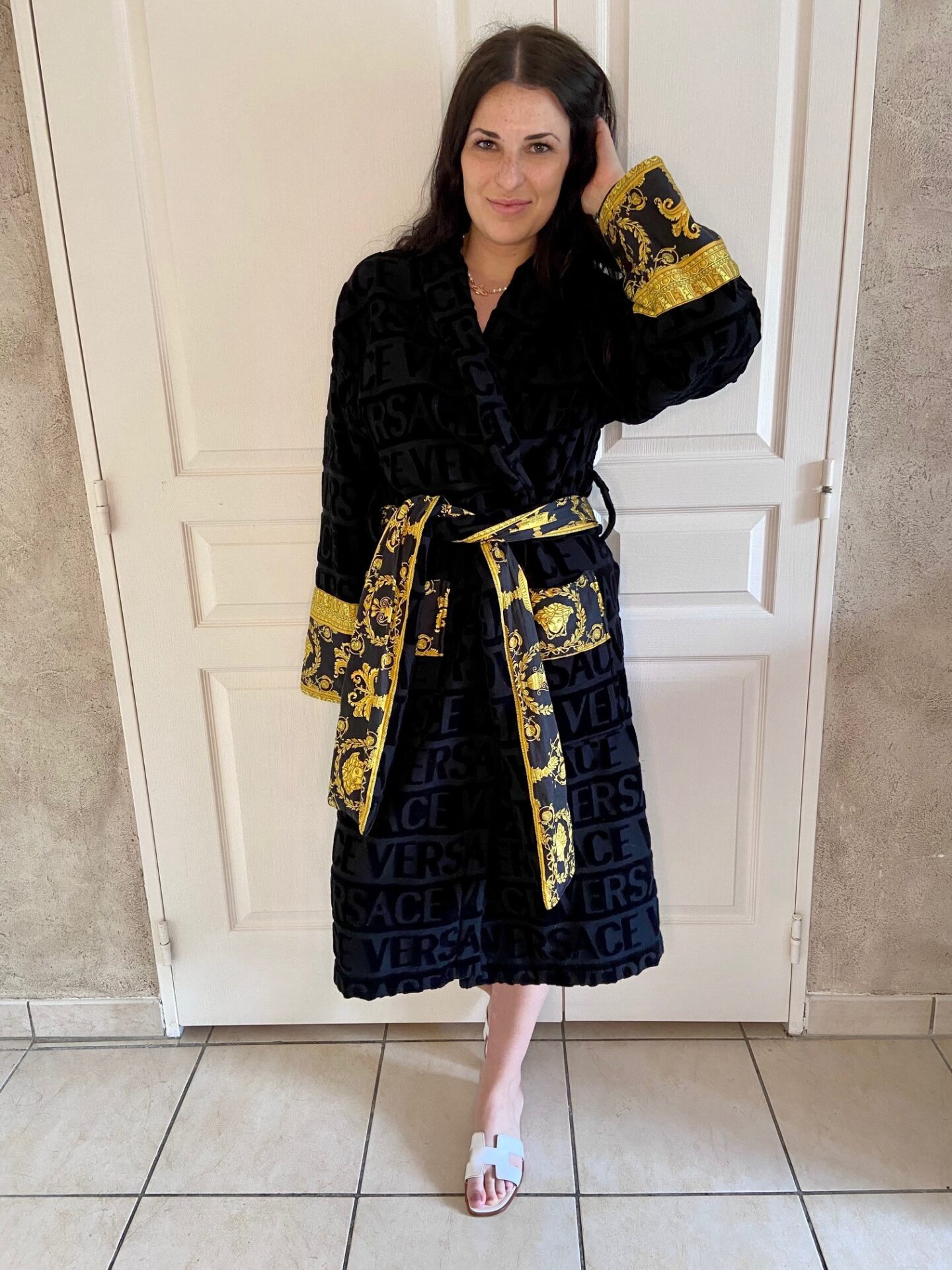 Purchasing The Versace Bathrobe
Towards the end of 2020, I received a very unexpected bonus from my old employer. While I have absolutely no idea why they paid me, I clearly didn't complain and decided to take some of the bonus and treat myself to an item from my yearly luxury wish list. I had it narrowed down to the Versace bathrobe and a Louis Vuitton coin holder. After some debating, I decided to go for the bigger option and headed into the Versace store on La Croisette in Cannes. This was my first time in the store and it did not disappoint. The main floor is full of purses, small leather goods, costume jewelry, and scarves. The ready to wear and shoes are located downstairs, as was the Versace bathrobe.
The sales associate was absolutely charming and she's now my go-to for any Versace goods! She was very polite and let me spend some time alone to look at the goods and take photos. It was a very nice change from the usual hovering they tend to do. I asked for a size small in the black and baroque print – there was no compromising on the color! After a few minutes, she comes back with a size medium as it's all that's left. After trying it on, I realize that it's a little oversized, but hey, it's a bathrobe so it's fine! Plus, it adds to the cozy feeling. Who really wants a fitted bathrobe, anyways?!
We head back upstairs after I'm done looking around and the SA (sales associate) decides to add in a handful of Versace perfume samples, which was SUPER kind! As a side note, I'm OBSESSED with the Dylan Turquoise perfume and will more than likely purchase it soon… And just like that, I'm the owner of a beautiful Versace Bathrobe. 😉
First Impressions
The packaging is gorgeous, as expected. It comes in a MASSIVE black box that's branded with the Medusa head and is then wrapped in branded tissue paper. The sash on the Versace Bathrobe is removable, but it was already put through the loops for me. Something that threw me off a bit was that the bathrobe isn't that soft! It's comparable to a very high quality towel; like the kind you'd find at a 5 star hotel, but better. It is made up of two different textures and the more 'raised' portion is a bit softer than the imprinted part. The material is also quite heavy, which only adds to the luxurious feeling of it. Oh, and IT HAS POCKETS! And, they're MASSIVE.
I did throw it in the wash by itself shortly after purchasing it and I had zero issues. I then hung it up on my drying rack; dryers aren't really a thing in France and to be honest, it's way better for your clothes. I essentially lived in this robe in the winter and wore it every evening! A word of caution: If you purchase the Versace Bathrobe, you may struggle to get dressed because all you'll want to do in lounge around in it…
And Now?
I have absolutely ZERO regrets. As soon as I put this stunning item on, I feel like Cleopatra. It's like I'm showing the world what a boss b I am (well, I don't actually wear it in public, but you get the gist). I feel invincible and ready to take on the whole wide world. The amount of flex and luxury in this Versace bathrobe is ridiculous! If you're having a bad day, throw it on and I swear your day will get a little bit better. One of my favorite things? Opening the door in it. Oh my GOODNESS, I can't even begin to express how cool I felt when that finally happened.
This Versace bathrobe is also great if you're one of those people who enjoys throwing on a robe instead of a towel when you hop out of the shower/bath. Because of the material, it absorbs water which is pretty neat. That's personally not my vibe, but I like the fact that I have that option if I ever change my mind.
Versace Bathrobe Final Thoughts
Honestly, this is worth every single penny. I didn't realize I could love a bathrobe so much. I can guarantee you this will be towards the top of my 'best purchases of 2021' list. In the winter, it was used daily and now that spring is here and it's heating up, I still use it a few times a week. It'll still get used in the summer, too. In terms of cost per wear, it's oh so worth it if you're into loungewear. I think it's one of the luxury items that I get the most wear out of right now. Not only that, but I know I'll always use it. The baroque is beautiful, the heavy material is everything, and even a few months later, I still feel as rich when wearing it as I did on the first day. There are a TON of different color options and you can even personalize the back for an extra cost.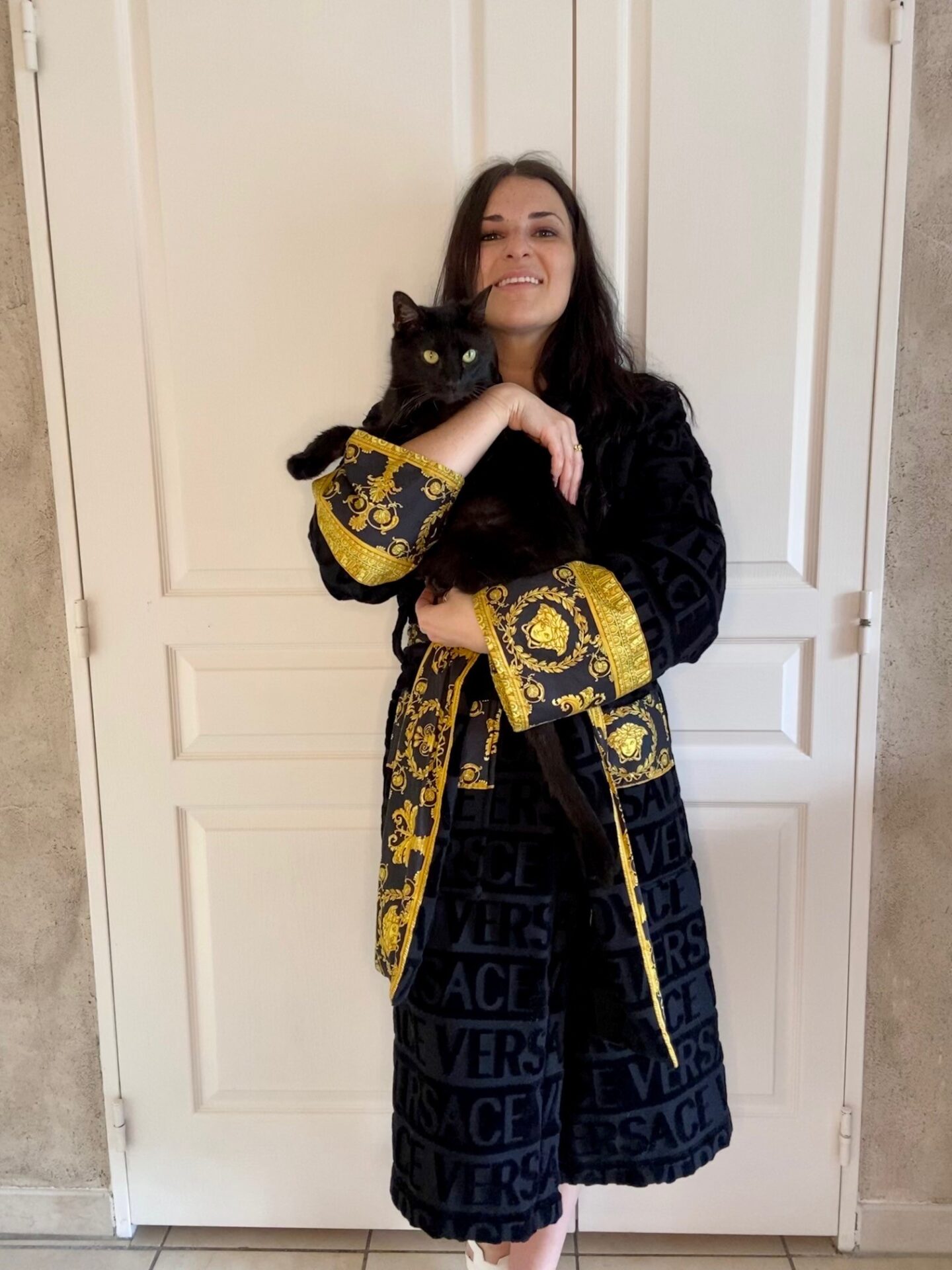 A couple irritating things I've noticed would be that it attracts dust (and cat hair…) like CRAZY. Do keep that in mind if you are considering this bathrobe and you have pets/can't stand items not being perfectly clean. I used to lint roll it quite a bit, but it's honestly a loosing battle so I just deal with it now. Also the sash, as beautiful as it is, will get wrinkled in the back from being tied around your waist! A good wash will remove the wrinkles, but that does drive me a bit crazy. Those are the only two negatives that I've ran into so far.
If you're into loungewear or enjoy being comfortable in the evenings, but you also like your touch of luxury here and there, then definitely consider the Versace Bathrobe! I promise you won't be disappointed. For all of my Versace lovers, check out my review on my Versace Illus Fashion Sneakers!
Subscribe
Make sure to subscribe in order to get a weekly email reminding you of my new blog post. 🙂 I appreciate you!
Bathrobe Details:
Farfetch: (here)
LuisaViaRoma: (here)
Ssense: (here)
Saks Fifth Avenue: (here)
Neiman Marcus: (here)
XO, Tess
**Some of the above links are affiliate links, which means I get a small commission if you buy something using my link. You don't have to use them if you'd prefer not to. You do NOT get charged extra for using the above links.