Summer season is (basically) upon us and that means us ladies are about to wear shorts again! Love them or hate them, they will be everywhere. When it comes to styling, I see some of the biggest 'fashion faux pas' made when it comes to shorts in the summer time. Often, us ladies just throw them on with whatever we grab first in our closets and hope it works out. There isn't as much thought put into a shorts look as there is a jeans look in the fall. Well, that's what I'm here for. 🙂 Just your handy little pocket stylist! For this month's Style Tips, I'll be going over a few different ways to wear shorts and still look chic and put together. Hot girl summer, here we come!
Transitional Outfit
Let's start off with a little transitional outfit, shall we? Shorts don't just have to be a July item! A great way to start getting more comfortable with styling shorts, especially denim ones, is to pair a higher quality knit with it. I highly recommend cashmere as it's lightweight, yet very warm. However, a good wool-blend sweater would work well, too. No matter which you pick, make sure it's more on the lightweight side and normal length. We don't want any oversized or cropped sweaters, here.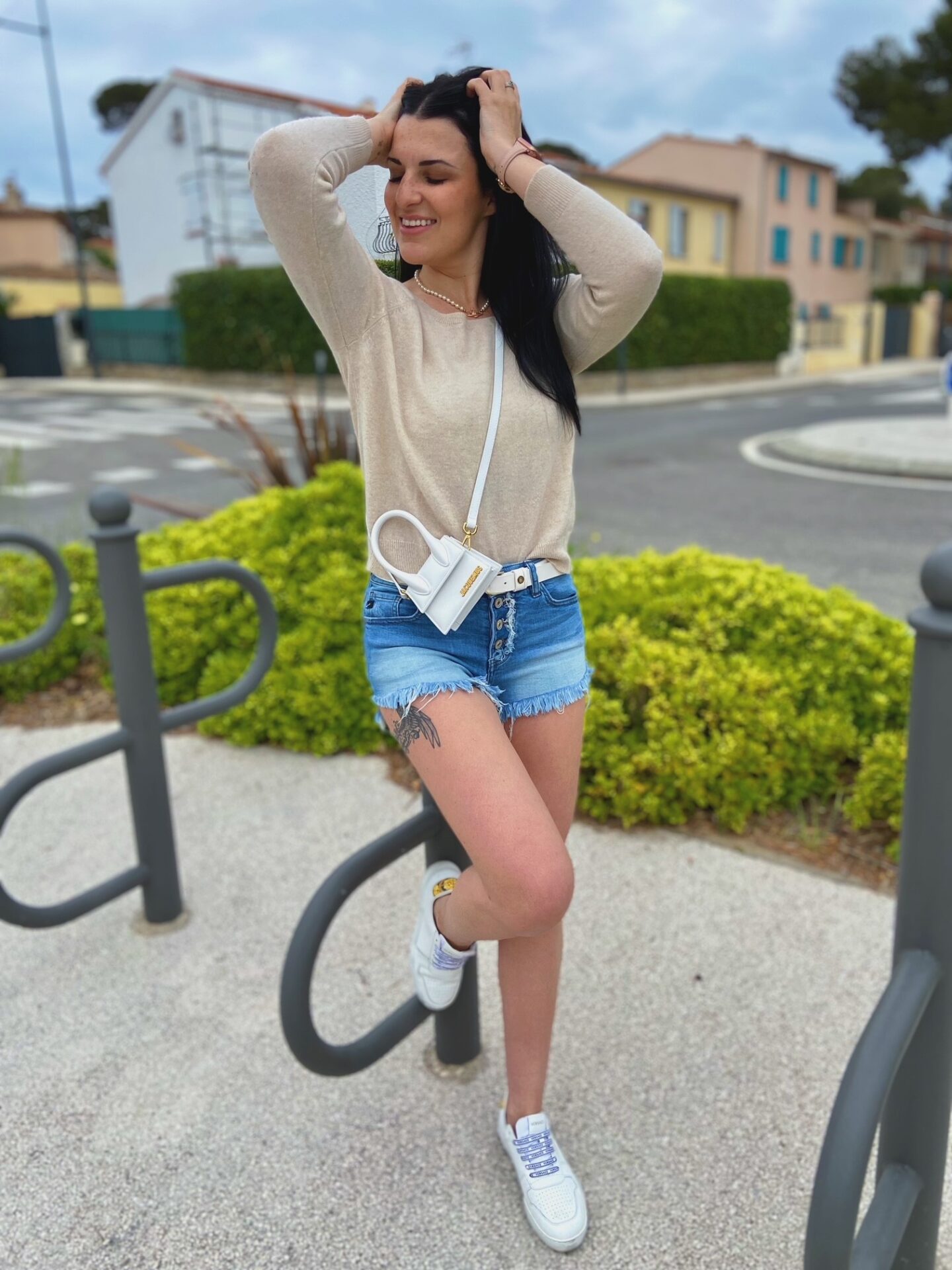 As we all know, shorts are short. This means that in order to look chic, we have to consider balancing out the rest of our outfit with more 'business casual' pieces and save the bra tops for clubs. In this case, I chose a lightweight cashmere sweater and made sure to french tuck it. This defines my waist and gives me shape. Not only that, but it peeps at my statement belt. I finished it up with a pair of fashion sneakers and my Jacquemus purse in a white color to pull the whole look together.
This is a very simple transitional outfit, but it still looks elevated based on the materials that I chose and the quality of my accessories. Pair that with some simple styling tips like the French tuck, and you'll be turning heads for the right reasons!

Outfit details
Sweater: Lilysilk (here)
Shorts: Kancan (here)
Belt: Tommy Hilfiger (similar here)
Sneakers: Versace (here)
Bag: Jacquemus (here)
Necklace: Vivienne Westwood: (similar here)
Watch: Apple (here)
Wear shorts with color
It's true, jean shorts can be a tad bit more difficult to dress up and keep chic instead of cheap! If you're a bit worried about styling denim shorts, try picking up a pair of colored, non-denim shorts instead. This style often has buttons which already gives a dressier vibe and does half of the work for you. Choose a color that is flattering against your skin tone, but still bright. Then for the top, opt for something more low-key. I went for a simple black crop here with minimal detailing. This way, you can see all of the shorts AND not worry about getting too hot by having fabric tucked into your shorts and keeping you toasty. The simple crop doesn't take away from the bright shorts, either.
I finished this one off with a pair of sleek black sandals that compliment the crop top and called it good. Sometimes, less IS more. This can be especially true when you're playing with bright colors. One way to elevate this look even more would be to add a silk scarf in your hair as a headband or with a ponytail. It would add yet another later of sophistication without overpowering the look and turning it tacky.
Outfit details:
Top: White Fox Boutique (similar here)
Shorts: Zara (here)
Sandals: Zara (similar here)
Necklace: APM Monaco (here)
Earrings: Allsaints (similar here)
Add a blazer
If you've been following my blog for a while, you'll know that I'm a HUGE fan of blazers. It should come as no surprise that if I wear shorts, a blazer will more than likely be added at some point in time, weather permitting. These denim shorts are a beautiful wash, but they are quite short in the back and show a bit of my bum. I got these imported from the US and with duties, returning them is not an option. So, how did I combat this? I paired it with an oversized boyfriend blazer! It hides my bum and elevates the whole look by a few notches. This is proof that you most certainly can dress up some jean shorts.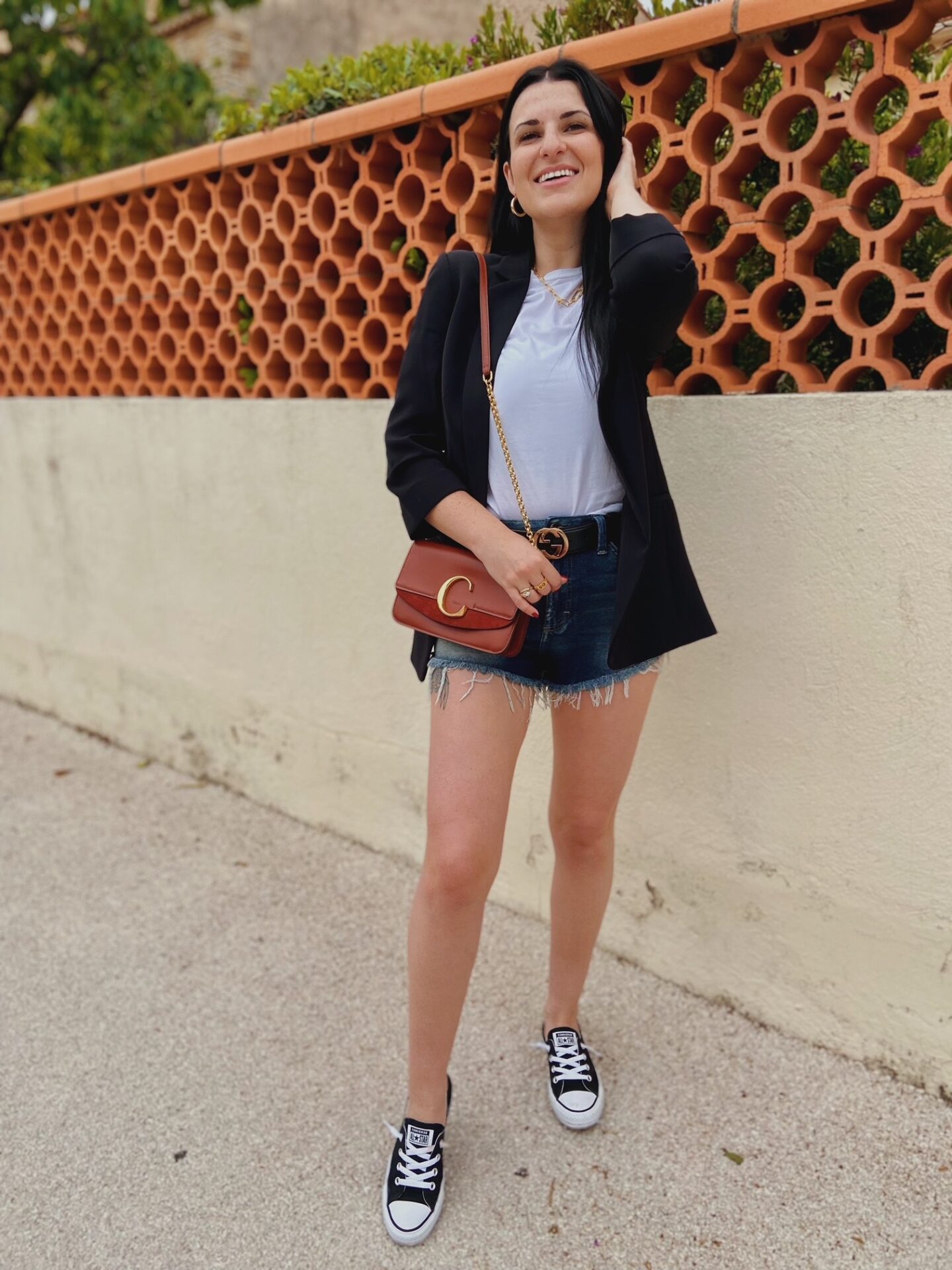 I then added a plain white tee, which I tucked in fully, and a crossbody purse for a low key pop of color. The look was finished with some Converse to keep it more on the casual side. I did add some gold jewelry to add a bit of femininity back into the look, too. To be completely honest, this outfit is my favorite and I'll be wearing it again before it gets too hot! 🙂

Outfit details:
Shirt: & Other Stories (similar here)
Blazer: Express (here)
Shorts: Lee (here)
Belt: Gucci (here)
Shoes: Converse (here)
Bag: Chloé (similar here)
Earrings: Express (here)
Necklace: APM Monaco (here)
Borrow from your workplace closet
I'm a huge fan of button down shirts and variations of this classic piece. Of course, they're known for being a workplace essential, but I actually wear most of mine on a more day-to-day basis when running errands or meeting with friends. They can effortlessly give off that business casual vibe without overdoing it.
Here, I went for a zip situation instead of a button down and paired it with some black shorts. The great thing about black shorts? You can dress them down during the day and dress them up for the evenings; they're quite versatile. I decided to go a little glam and pair it with some heeled sandals, but you could easily switch it for some black loafers or converse for a more laid back vibe. As always, make sure to tuck part (or all) of your shirt into your shorts!

Outfit details:
Top: Express (similar here)
Shorts: Express (similar here)
Belt: Gucci (here)
Sandals: Stuart Weitzman (here)
Purse: Louis Vuitton (here)
Necklace: APM Monaco (here)
Tailored shorts – the most chic way to wear shorts
Last, but certainly not least, the easiest way to wear shorts and stay chic… Tailored shorts! I mean, this is honestly just cheating. Tailored shorts are already cut a certain way to make them look better on you, are typically made of higher quality fabrics, and do ALL of the work for you. There are a lot of different styles of tailored shorts that you can choose from, so make sure you know your body shape and what flatters you the most. If you aren't sure what body shape you are and would like a one on one coaching and styling session with me (which includes finding out your body shape!), check out my website, here.
I'm an hourglass figure, so I'm able to wear just about anything as long as I keep balance on my body. So, I went for these paperbag style shorts. I LOVE these because they're so flowy on the legs; there is nothing worse than shorts that are tighter on the legs on a hot summer day! However, these do add a bit of volume to the tummy so keep that in mind. Since these shorts are SO high waisted, I opted for a white crop top as not much skin would show. It's a bit of an unexpected piece which creates a positive contrast. You could always switch it out for a plain white v-neck shirt or tank top if you prefer. To finish this look off, I decided to go with a nicer heeled sandal to keep everything on a more elevated level and give me those 'legs for days'.
Outfit Details:
Crop: Zara (here)
Shorts: Express (here)
Sandals: Jimmy Choo (here)
Purse: Jacquemus (here)
Necklace: Vivienne Westwood (similar here)

Final thoughts and tips to wear shorts:
Avoid shorts with rips and tears. Those will cheapen your outfit and most likely prevent you from achieving a chic look.
If your shorts are too short, consider adding a longer blazer to cover your bum and timeless pieces to give off the vibe you want.
Make sure you know your body shape so that you can purchase the most flattering shorts for your body type. You'd be surprised to see how much of a difference in your style the right clothing can do.
For a chic look, don't go too crazy with colors! Stick to neutrals or focus your look on one bold color. If you have a top with multiple colors, pull colors from it to tie your whole look together.
If you aren't sure on which shorts to pick to look more sophisticated, opt for a tailored style.
Tell me, what style of shorts are your favorite? I'm a huge fan of tailored and colored shorts, personally. Be sure to check out last month's Style Tips post on How To Look Stylish Everyday!
Subscribe
Make sure to subscribe in order to get a weekly email reminding you of my new blog post. 🙂 I appreciate you!
XO, Tess
**Some of the above links are affiliate links, which means I get a small commission if you buy something using my link. You don't have to use them if you'd prefer not to. You do NOT get charged extra for using the above links.