Quite often, I get asked the question 'how to look expensive', regardless of budget. It's a bit of an art, however it's much simpler than you may think. Just because someone can afford to wear half the Chanel store on them doesn't mean they look expensive, chic, or even stylish! On the same end of the spectrum, a woman on a budget who prefers second hand stores can easily look like a million bucks. The key? Knowing what works for your body, what fabrics elevate your look, and confidence (among a few other things, of course). Living on the French Rivira, I often see people who are trying to look more expensive, but often miss the mark. I hope that this blog post, which focuses on the fashion side of things, will help you elevate your future looks and keep you looking chic!
The importance of fabrics
The number one way to look cheap instead of expensive would be by choosing poor quality materials. I'd recommend reading the label before you buy clothes. Higher quality materials may cost more money upfront, but it's an investment in the long run. The item will actually have a longer life than it's cheaper alternatives. If higher quality materials are out of budget for the moment, then consider educating yourself on synthetic materials as they're not all created equally.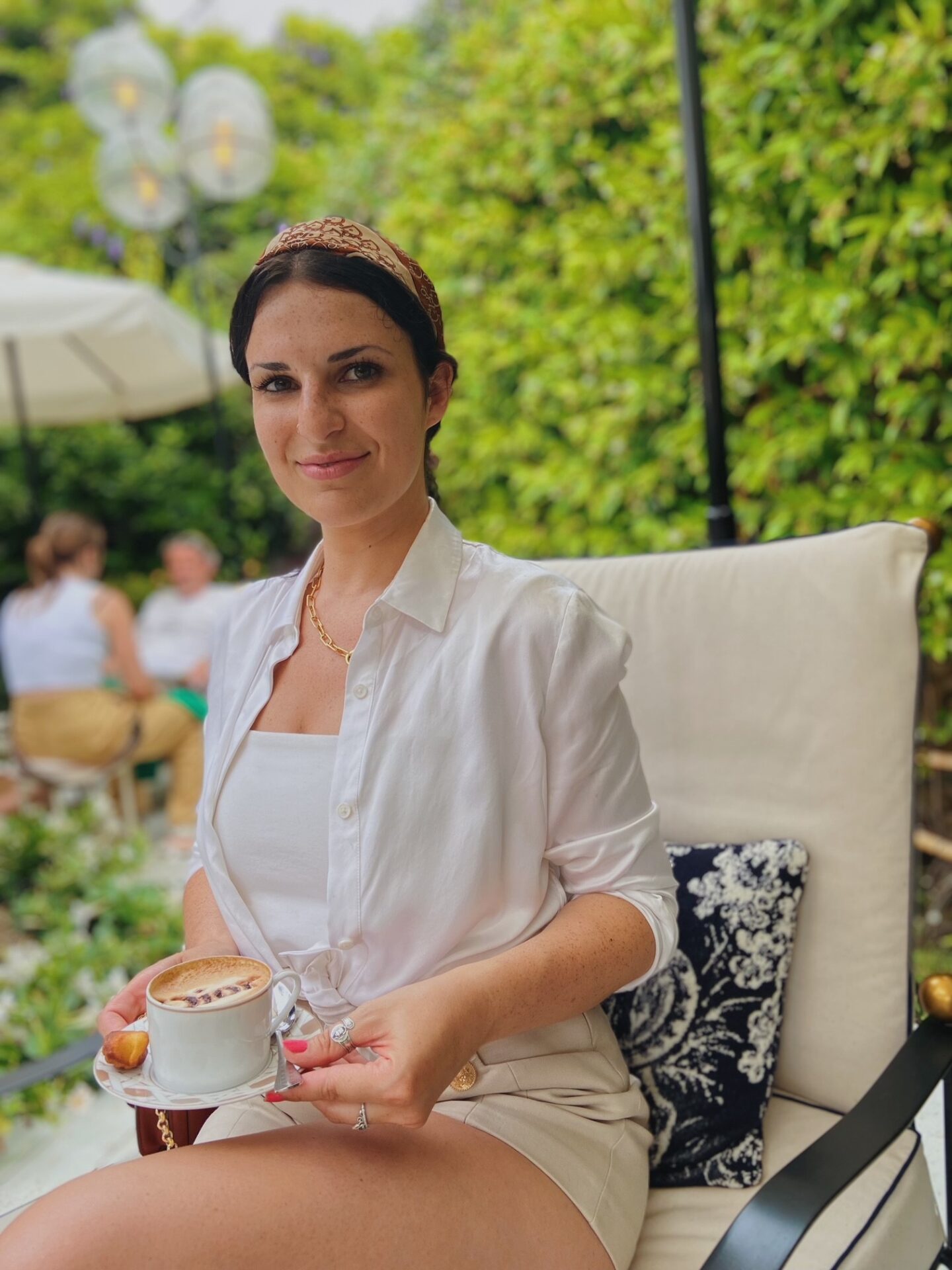 Here are the best of the best in terms of fabrics to help you look more expensive:
Cashmere
Linen
Silk
Cotton
Wool
Leather
Suede
Tweed
Some syntheics to keep an eye out for would be elastane, viscose, and rayon. Other types of synthetics can look more (or less!) expensive depending on their percentages, which is why you always want to look at that label and really feel the material and see how it looks on your body.
Some materials to steer clear of would be cheap jersey, low quality polyester, fabrics where the color is faded or worn out, and PCV/PU leather or any other types of poorly made artifical leather. Fast fashion is notorious for often using lower quality fabrics, but you can still find some gems hidden in store. Zara and H&M, for example, even have a higher quality clothing line made with some of the best fabrics you want to elevate your look.
Classics Over Trends
Ultimately, if you're trying to look more expensive, chic, or elegant, you want to steer clear of trendy items. They're just that: trendy. Sometimes, a classic item can become trendy which is neat. However, you should never follow trends if you're trying to upgrade your style. Trends can be fun but in the end, they're impossible to keep up with and by the time you finally invest and become 'on trend', a new trend will be on it's way and you're considered outdated. Classics are classic for a reason; they're timeless and have withstood the test of time. Whenever you wear a classic piece, such as a blazer, your look is instantly elevated. Pair that with some higher quality materials we mentioned above, and your style will have already improved and be closer to the expensive looking spectrum.
Know Your Body Type
This is HUGE ladies! How will you be able to look expensive if you're not sure what items and cuts look best on you? Once you figure out your body shape, you'll want to educate yourself on what looks best for your proportions and unique self. Then, when you go shopping, you'll have a much better idea of what will look better on you and therefore, help you look more on point. Knowing what articles of clothing will flatter your body is a real game changer.
There are a ton of free resources out there but if you're serious about wanting to look expensive and upgrade your look, contact me on my business website, Dressed by Tess. I can not only help you figure out your body shape and how to dress for it, but also provide you with some complete outfits in order to help out your shopping and styling journey.
Monochrome
When in doubt, give monochrome a shot! I can't even begin to express how dressing in all black or white can help you look expensive and chic. The key to rocking this look is by playing with textures. For example, pair a silk tank with tailored blazer, some trousers, leather heels, and a leather purse. There, you'll have a good four different textures, but all in the same shade of black or white. This is the key to rocking a monochrome look. Texture keeps your look interesting and stylish.
My go-to when I go to expensive places such as Monaco is always white monochrome. There is something so powerful about rocking that white look and I swear I turn into a different person. If you're worried about stains, don't be. As long as you're careful, you'll be okay. Worst case scenario if you do get a stain, I recommend carrying a Tide to-go stick with you in your purse. Those are a life saver when wearing white! At restaurants, I'm extra careful and I make sure my napkin is covering every bit of white that's exposed on my legs; this has saved me many, MANY times. Always make sure to check the seat before you sit, too. 🙂
Handheld Steamer and Dry Cleaners
So, you decided to invest in a stunning, expensive looking linen dress in a neutral beige color, but you still look cheap and you don't know why. Well, chances are along with that nice dress, you're rocking some gnarly creases… Just because you have the right clothes doesn't mean the work is done. Now, you have to take some extra steps to take care of said clothes and keep them sharp and crisp. If you don't already have one, I highly recommend investing in a hand-held steamer. It's one of the best items in my stylist kit. I always travel with it as it's portable, it heats up in 30 seconds, and voilà! Wrinkle-free garments. Wrinkles are a sure-shot way to cheapen your look, so don't let it happen. You can iron your clothes, but let's be honest ladies, we are busy and sometimes just don't have the time!
On the topic of keeping clothes sharp, if your label says 'dry-clean only', that doesn't mean tossing it in the washing machine under gentle cycle. You need to take it to a professional and have them clean it as to not ruin your garment. Disregarding the label often leads to shrinkage, pulled threads, or just completely ruined items. While it's not always the case, do you really want to risk destroying your investment just to save a few bucks? Instead, skip your morning Starbucks! 😉
Look expensive… Discretely
I touched on this earlier, but just because you're able to afford half of a designer house doesn't mean you're looking expensive and elegant. The best way to keep it classy and chic is to be discreet about your items. That means opting for more neutrals than colors (fabrics tend to look better in neutrals than colors anyways), avoiding heavily monogrammed/branded items (Louis Vuitton monogram or basically anything that's popular with Balenciaga at this point), or anything too gaudy/over the top. Less IS more.
I'm not saying you can't ever purchase something like this, but I would avoid filling up your wardrobe with these items if you're wanting to be more on the elegant and expensive side. Take Kate Middleton for example. You and I both know she's wearing brands from head to toe, but most of the time you can't tell the brand because it's all very discreet, but you know she looks expensive, chic, and classy.
Keeping Sweaters Fabulous
Tying in with the dry cleaning tip, definitely get your cashmere and wool sweaters dry cleaned, please! You can turn a high quality sweater into an ill-fitting garment that has lost all of it's shape by trying to cut corners and you won't be rocking the expensive look. What I do like to do before I bring a sweater to the dry cleaners in order to keep it looking fresh is to use lint rollers (I own a cat) and an electric lint remover. The latter will gently 'eat' any piling that you may have gathered on your sweaters and it's a REAL game changer. It only takes a few seconds to have your sweater looking like new again.
Shoe Tips
Ahhh shoes, my weakness. The large majority of my designer collection is held within my shoes, so you can say that I know a tip or two in regards to keeping them looking shiny and new. If your shoes look worn, your look will reflect that as well, so make sure to take care of them.
For white sneakers, you should never, and I mean NEVER, go out with dirty shoes. They need to be pristine at all times. You can use Mr. Clean's magic eraser for that or the Jason Maark shoe cleaner. I own both and I tend to use the latter for more serious scuffs.
As for your heels (or flats), in order to protect them I recommend getting them soled. You can do it yourself at home or you can get them done professionally depending on your budget. Personally, I tend to get it done professionally now as it's pretty cheap affordable in France and they're very good at what they do. This will not only protect the sole of your shoe, but also preserve it's life. If you own red bottoms, this is a must. As for heel protection, look into heel protectors. They're little plastic guys that you slip onto the tip of your heel to avoid scuffing and wear on the end of the heel. This not only keeps your heels looking fresh, but will also extend the life of the heel tip so you don't have to get them replaced as often.
Feel Expensive to look expensive – Final Thoughts
Ever heard the saying 'fake it 'till you make it'? Well, it's true! If you feel expensive, good, and happy, you will start to look like it, too. In the end, all that matters is how you feel in your clothes. No matter what you're wearing, you want to make sure that you feel great. Your happiness is what matters and hopefully, some of these tips got you excited to try a few new things out so you can truly experiment with your style!
For me, I've decided to upgrade my style because of where I live. I've always wanted to look more expensive, but when I was in the Midwest, I already stood out like a sore thumb because I was dressing up more than everyone else. Here? I can actually take it to the next level! There is no such thing as too chic and I find it very fun to see how much I can push my style and sometimes, I just want to feel and look expensive. 😉
Did you learn any new tips? Let me know! Also, check out my Style Tips: How To Look Stylish Everyday post to get some quick and easy tips for everyday styling!
A few of my favorites:
Silk blouse (here)
Cashmere sweater (here)
White trousers (here)
YSL purse (here)
Handheld steamer (here)
Electric lint eater (here)
Magic eraser (here)
Jason Markk shoe cleaner (here)

Subscribe
Make sure to subscribe in order to get a weekly email reminding you of my new blog post. 🙂 I appreciate you!
XO, Tess
**Some of the above links are affiliate links, which means I get a small commission if you buy something using my link. You don't have to use them if you'd prefer not to. You do NOT get charged extra for using the above links.