If you're like me, you absolutely love summer, but the heat is a different story and staying cool can be a problem! Depending on where you live/where you vacation to, the heat can be quite vicious. Staying cool turned into a bigger challenge when I landed in the south of France. I had to learn the hard way in regards to what works and what doesn't. Through trial and error, I give you my top four tips for staying cool this summer and looking your best!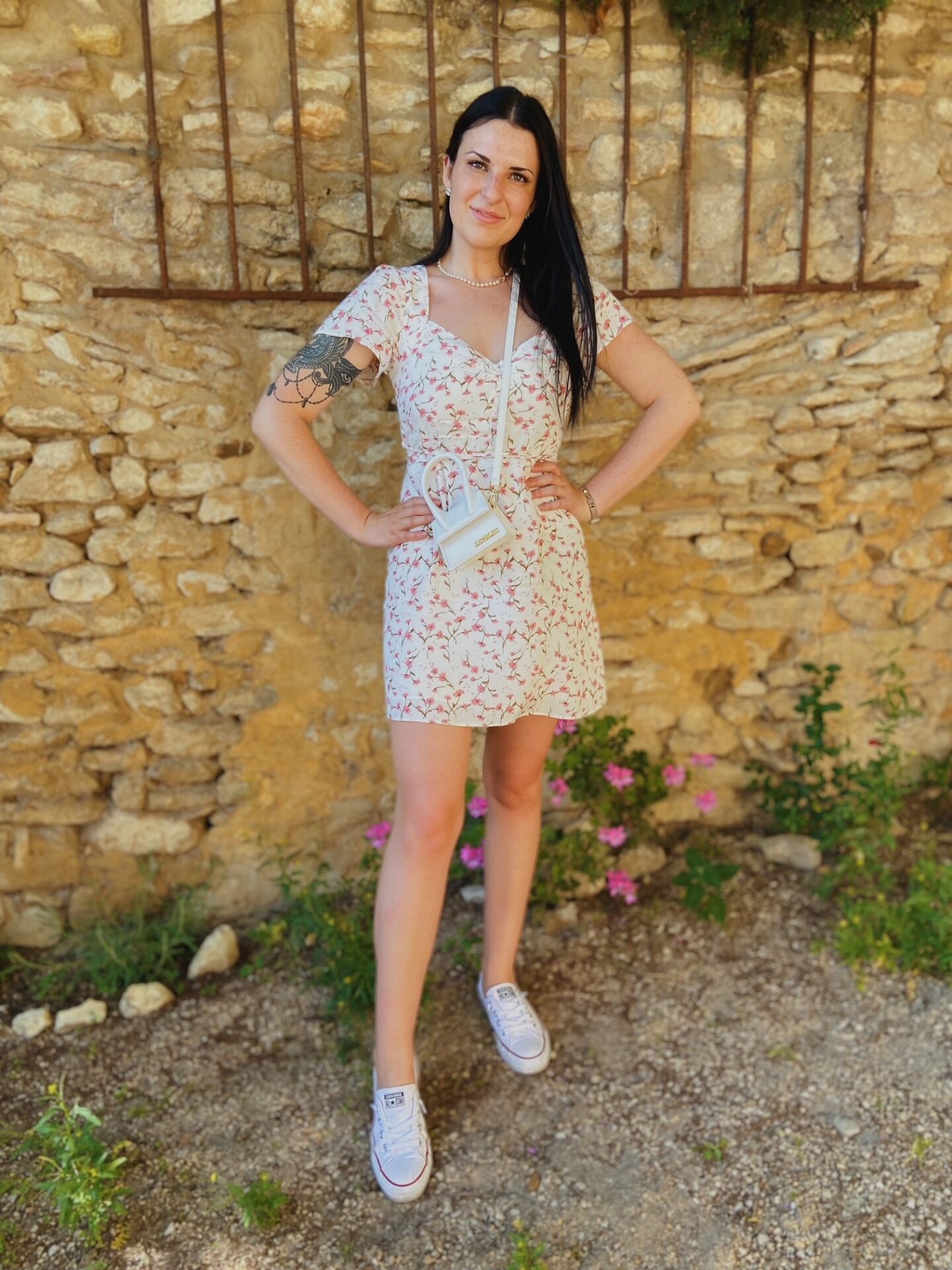 Staying Cool With The Right Fabrics
The number one thing that you can do to stay cool this summer is dress yourself in the right fabrics. You could actually be warmer in a polyester crop top and denim shorts than a long linen dress, despite the difference in skin showing! That's because some fabrics can breathe easier than others. Something like polyester will just turn you into a human oven as air struggles to pass through. As a good rule of thumb, you want to opt for clothing that is flowy or looser on the body and is lighter in color. Dark colors such as black and navy attract the sun, whereas a white or beige will reflect the sun and help keep you cool.
These are the best fabrics you can wear this summer:
Linen – This is my favorite summer fabric. I find that it's by far the most breathable and I'm able to stay cooler longer. Linen creases, so make sure to iron/steam the garment before leaving and know that it'll get wrinkled throughout the day. It's also very quick to dry.
Cotton – Linen's little sister. It's more afforable and readily available at most stores. Cotton can hold in moisture a little more, so be careful of the colors you choose. Like linen, this can also crease.
Chambray – Everything that denim isn't. They look similar, but chambray is much more lightweight and breathable. It's a much better alternative to those jean shorts!
Silk – This fabric can be hit or miss. Some people tend to find silk too heavy for the summer, but I personally don't mind a silk slip dress in the evenings and I find that it keeps me quite cool. Silk can and will absorb moisture and cause stains, so be aware of the color you choose and the activities you have planned for the day. It's more of a 'chill day/night' fabric.
Shoes
Something else to keep in mind is your choice of shoes. Those super strappy black leather sandals may have looked cute in store, but it's less cute having your feet burn up and slide around because of the dark colors and the material. I do avoid heels during the day, too (unless I'm going to a business lunch or running a quick errand in an affluent area). For me, it takes more effort to walk in heels, regardless of the height, and more effort means I'll get hotter easier. Therefore, I have three pairs of flat go-to summer sandals that I rotate.
The first is a white leather pair of Hermès Oran sandals. While they're leather, they're white and I never have any issues with them. The second is a pair of plastic Valentino red sandals, which I love. I wouldn't recommend a plastic sandal if your feet tend to get hot easily, but if that's a non-issue, definitely look into them. My final pair is the 'man-repelling' Birkenstock (the tong style). I love these when I'm doing a lot of walking in a village as they're very comfortable and quite open as a shoe, which means they're more breathable to me.
Finally, trade your leather sneakers for some fabric ones. Again, leather is an oven for your feet so you want to avoid them if you can. Some summer espadrilles, such as Chanel, are also leather lined and as cute as they are, they shouldn't be your first choice for an all day adventure under the sun.
Hair Up!
This is one I still struggle with as I LOVE having my hair down. However, the difference in my body temperature when I go from having my long, black hair down to up in a ponytail is insane. It's instant relief. While I think everyone can benefit, if you're dark haired, this is a must for those hot summer days. Just throw your hair up in a cute bun, ponytail, or braid and don't even bother dealing with hair on your back! Nobody needs a hair blanket in the summer, you know? I have been playing with light colored silk scarves as well and it has helped me with staying cool, too. I just add it to my hair as a headband and call it a day. It's not only cute and stylish (and trendy at the moment!), but I swear having that lighter colored fabric on my head helps reflect some of the sunlight that my black hair typically attracts.
This will also save you time in the mornings since you won't have to straight/curl your hair. 😉 I tend to air dry my hair most days in the summer and just throw it up as needed depending on my day.
Blotting Papers / Powder
My holy grail for 'in the moment' problems. Sometimes, no matter how much you plan out your outfit and hair, staying cool just isn't working with the heat. You need to do something other than drinking water and staying in the shade. Well, insert powder and blotting papers. You will never see me leave my house without both of these items in my purse. Well, unless it's my baby Jacquemus bag in which case it doesn't fit…
I always add a loose mattifying powder to my face before I leave the house, regardless if I'm wearing makeup or not. However, I also take a compact powder with me, too. It's not messy like loose powder is an easier for on the go application. If it's a particularly rough day and I feel like I'm melting, I'll whip out my blotting papers to get rid of the problem right off the bat. This stuff will magically get rid of all of the shine on your face. Then, I'll use the compact powder and add a quick layer of that. This usually stops it from getting any worse and once my body temperature drops back down, I'm good to go and nobody even noticed I was feeling like I was about to overheat. Phew!
Final Thoughts and Tips
Something else I'd recommend is cutting down on your summer makeup. You're going to sweat if you're in a hot destination; it's a given. The less you wear, the more comfortable you'll feel in the heat, I swear. Personally, I'm 50/50 on when I wear my tinted moisturizer in the summer. I'll typically fill in my brows, add some mascara, SPF, and maybe concealer if my undereyes are looking rough, and call it a day. Evenings I'll add a bit more, but it's still not my go-to off season makeup.
I've noticed that a lot of French tend to avoid going outduring the peak hours when the sun is at it's hottest around noon. I kid you not. You often won't find locals out and about when the sun is beating down with full force. We'll just stay home and wait for it to get a bit cooler and more tolerable.
While this little tip may seen obvious, you'd be surprised how many tourists I see that DON'T do this and actually almost dehydrate themselves but… Always bring a water bottle with you! Depending on where you travel and on what day, restaurants and shops will close and you won't be able to purchase anything to drink. This is even worse if you're walking down a nature path and you know there won't be any vendors, either. Just pack that water bottle with you, guys! Not only will it keep you staying cool, but it's an actual safety concern, too.
Make sure to check out last month's style tips on how to look chic in shorts here!
A few of my favorites mentioned:
Linen dress: Reformation (here)
Cotton dress: Mango (similar here)
Silk slip dress: Lilysilk (here)
White sandals: Hermès (here)
Red sandals: Valentino (similar here)
Tong sandals: Birkenstock (here)
Blotting papers: Tatcha (here)
Loose powder: Laura Mercier (here)
Compact powder: By Terry (here)



Subscribe
Make sure to subscribe in order to get a weekly email reminding you of my new blog post. 🙂 I appreciate you!
XO, Tess
**Some of the above links are affiliate links, which means I get a small commission if you buy something using my link. You don't have to use them if you'd prefer not to. You do NOT get charged extra for using the above links.