Restaurants in Cannes have been open for dining for a couple of months now, but you could say that I've been on a mission to find the best spots ever since! The majority of the restaurants here are quite tasty, but some shine much brighter than others. As a vegetarian, all of these spots will have veggie friendly options, but may not necessarily be a vegetarian joint. With that being said, I give you my top three favorite restaurants in Cannes, along with a few honorable (and dishonorable…) mentions!
Noväa
Noväa has got to be my favorite restaurant that I've discovered in Cannes so far. I stumbled randomy upon this vegetarian gem back when restaurants were still closed and snapped a photo of their menu as they're 100% vegetarian with vegan and gluten free options. I wouldn't necessarily consider this place when going out to dinner, but I've definitely had them delivered before in the evenings and I love them for lunch.
They have a very reasonably sized menu and everything is fresh and locally sourced. At this point, I'd say I've tried over half of the menu and I have yet to find something that isn't absolutely delicious. Not only that, but their lunch specials are SUCH a good deal! And trust me, that's not common in Cannes. The staff is kind and they're quick, too. I went there a couple times for lunch when working the Cannes Film Festival and didn't have to wait for more than 5-10 minutes for my food.
The only down side is the desserts. They just are too healthy and not my cup of tea! When I order dessert, I want something completely unhealthy and preferably, full of chocolate. If you're like me, I'd skip desserts here and head into a boulangerie or a gelato shop instead for that sweet snack. I'm also a pretty big fan of their coffee and I have yet to try their teas or smoothies, but I have a hunch they'll be delicious as well.
Even non-veggies love this place! The food is just packed full of flavor and you can't tell you're not eating meat. They're always busy for a reason, you know? My personal favorites would have to be the curry vert (green curry) and 'Le Burger Chèvre' which puts all other veggies burgers to shame, honestly. If you're in town and you need a quick, delicious, and healthy lunch, consider them as an option. You won't be disappointed. 😉 Check them out here!
La Môme
La Môme has two locations; the more casual beach restaurant and the formal restaurant. I haven't had the occasion to try the formal restaurant yet, but I have heard amazing things about it. I have, however, tried the beach restaurant right before tourist season started and I loved it! The food was tasty, the overall vibe was amazing, and it was a great experience.
As with anything that is located on The Croisette in Cannes, you will be paying for the location, so keep that in mind if you're on a budget. Still, I think this place is worth checking out and splurging a bit on if you really want the full Cannes experience. I mean, I think it's pretty neat to be able to eat a delicious dinner with my toes in the sand, overlooking the sea, while a DJ is playing music in the back, but that's just me.
As a vegetarian, your only option is essentially the truffle pasta unless you want a few different types of appetizers. But honestly, I wasn't mad about it. It was SO good! My friend had a dish with seafood and thoroughly enjoyed her plate as well. I also had the burrata, which was tasty but I'm just not a huge fan of that dish in general, and 'le café cornet' which is essentially coffee and mini ice cream cones presented in the cutest way possible.
It's worth noting that you're also able to rent a beach chair for most of the restaurants on La Croisette, including La Môme. The prices always go up in July and go back down in September for renting, so keep that in mind. The service was pretty good for being on a beach chair all day and the food was just as tasty. We opted for mostly appetizers (shoutout to the black chickpea hummus), along with a watermelon, melon, and mozzarella salad on my end, and I didn't regret a thing. It was a day well spent! Check them out here.
Il Teatro
A hidden gem, quite literally. It's tucked away in a street I've never even been on! A colleague brought me here during the Cannes Film Festival in order to have a nice dinner away from the hustle and bustle of La Croisette. I was very impressed and I consider this spot my favorite Italian restaurant in town! I can't wait to go back and bring family and friends, too.
The prices are very reasonable, the portions are very well sized, it's super tasty, AND they made one of the best café gourmand I've had to date… More on that later! I went for the 'ravioles à la crème d'artichauts', which is essentially baby raviolis in an artichoke cream, and I was quite sad when I was too full to finish my plate. As for the café gourmand, it's a coffee with a bunch of randomly assorted mini desserts. I love it because I'm not picky with my sweets and the surprise is so fun! It's a great way to discover new treats or get the best of both worlds if you can't decide on what dessert to choose. This one in particular had my three favorite things: crème brûlée, panna cotta, and tiramisu. I. Was. In. Heaven.
It's a pretty romantic set up, so it'd be perfect for a date. Most of the seating is outdoors on the street, too. It is a pedestrian street with very little traffic, so there is no need to worry about that. If I'm being honest, I crave their pasta all the time and I think I'll be bringing a friend there soon to satisfy that craving. They were just THAT good. Check them out here!
Honorable (and not so honorable) Mentions
While they may not have made the list, there are still a TON of delicious restaurants and cafés in Cannes, so take a peek at these, too!
Harry's Bar. They're the location featured at the top of the blog. I went before they had their food menu available (tapas and such), but their cocktails were out of this world. They actually threw a couple of snacks together for my friend and I which was so kind of them. I can't wait to go back and try their tapas!
Armani Caffè. I know, I know. It's a designer café, but their breakfast special was well priced and quite tasty. Don't even get me started on that delicious cappuccino! Plus, you feel boujee when you're there, so that's a win for me.
Mademoiselle Gray. I haven't tried their entrees, but they had the best iced coffee I've tried so far and their appetizers were out of this world! The service was pretty slow, but I plan to give them another chance once tourist season dies down.
Now with the good, comes the bad… As mentioned earlier, I haven't ran into too many awful restaurants, but there are two that stick out.
Oh La La (Martinez Beach Club). I never actually ate there. A group of us had reservations and they were so incredibly rude to us that we ended up walking out and heading to another establishment. After that experience, I don't plan to ever step foot there again.
La Guérite. This place is the definition of overrated. Before I rant, I'd like to say I'm no stranger to fine dining and spending extra for quality. With that being said, they have no distinctions or Michelin stars, but they charge more money than a Michelin restaurant. You'd think the food would be tasty for the price you're paying, but my friend and I both had to stop eating our 35€ parmesan and garlic pasta because it was just too cheesy and greasy and we felt sick. They also charge 9€ for four pieces of asparagus… If you want the party restaurant vibe, there are LOTS of places in Cannes and the surrounding areas that give you the same experience for half the cost and a delicious meal.
Final Thoughts On Restaurants In Cannes
Overall, Cannes has a ton of tasty restaurants. However, it's very easy to get swept up in the glam and glitz of it all and get, well, ripped off. Some of the best restaurants in Cannes are not located on La Croisette. They're in side streets or even in neighboring towns. Ask locals for their favorite spots to eat or just walk along these smaller roads and let your nose guide you! I can't tell you the amount of times I've done the latter and discovered some amazing places.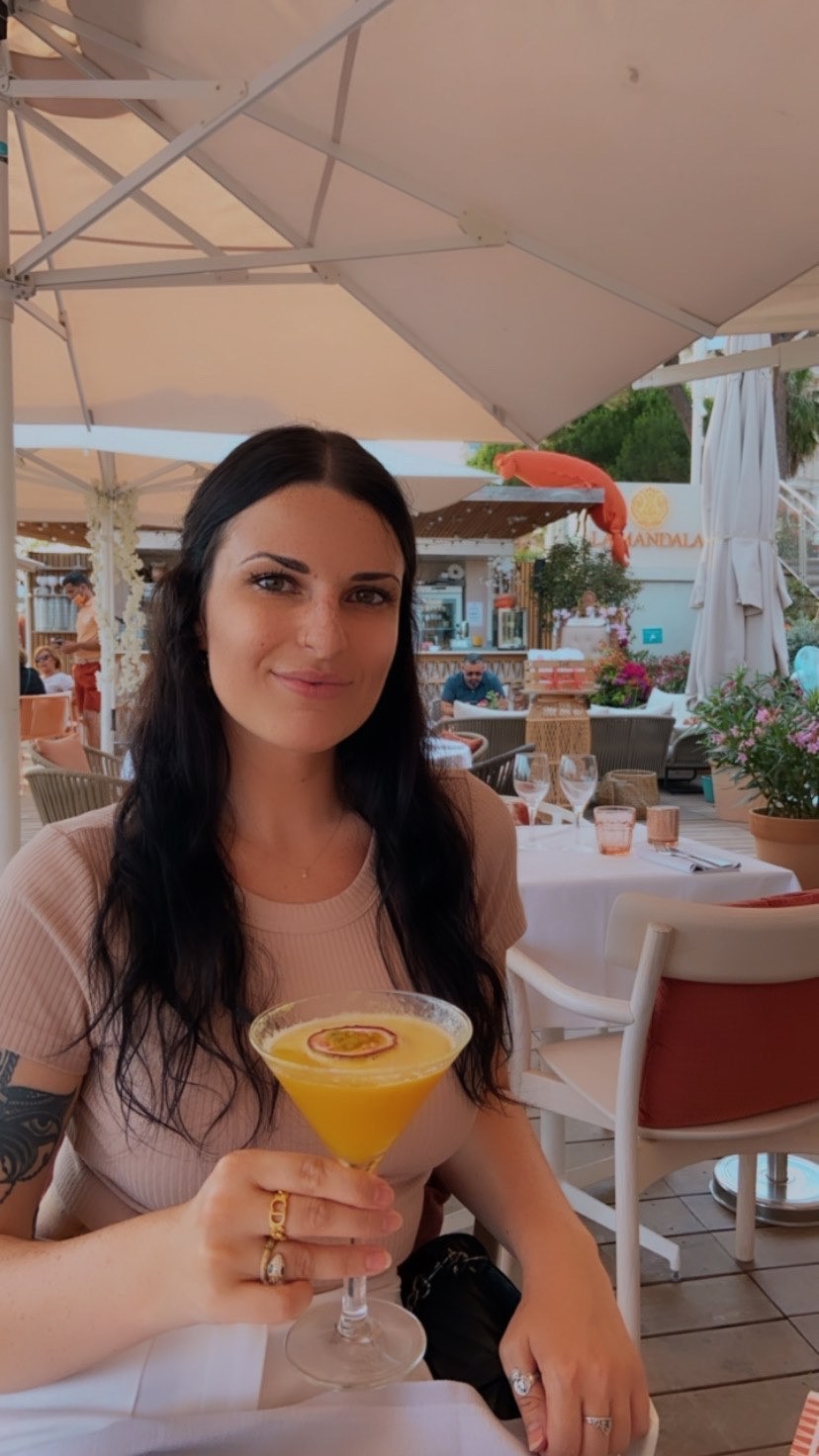 If you are a big foodie like me, check out my 36 Hours In Monaco post to check out some more restaurants! The best restaurant I've eaten at since I've moved back to France is featured there. 😉 Also, make sure to follow me on Instagram! I tend to always post on my stories when I'm at a restaurant.
Subscribe
Make sure to subscribe in order to get a weekly email reminding you of my new blog post. 🙂 I appreciate you!
XO, Tess