Today's blog post is all about my worst luxury purchases. This one was actually requested by you all. 🙂 I love receiving your emails and DM's on Instagram and I listen when you have requests! I've been asked quite a few times if I regret any of my higher end purchases and the short answer is yes. I've been purchasing luxury for about five years now, but I really increased my designer collection in the last two years. While I do pride myself in researching items throroughly before handing over the money, I'm only human and sometimes I just gave in to impulse… And regretted it. With that being said, I give you my top three worst luxury purchases!
Criteria For Worst Luxury Purchases
First off, let's discuss the criteria for being labeled as one of my worst luxury purchases. I mean, it's a pretty savage title after all.
Cost Per Wear. How many times have I actually worn/used the item? If it's only been once or twice, that's awful and may not have been worth the splurge.
Do I still own it? I mean, this is pretty self explanatory. If I sold it, that's probably a bad sign.
Do I love it? If it was an impulse purchase, does it still make my heart beat faster when I use/wear it? Or is it just catching dust in a deep, dark corner of my closet.
With that being said, none of these items below are that horrible. I could've done better, but it wasn't a catastrophe either. These are also in no particular order!
Givenchy Earrings
I don't think I've ever mentioned these on my blog or have really worn them on my Instagram. I actually own two pairs of Givenchy earrings and one is far superior than the other. The losers are these all black pairs with a large gray-ish gem. They look very cute, but they're actually super painful. It's pretty rare for me to be unable to wear a pair of earrings, but I can't keep these babies on for more than an hour or two. I think part of it is because of the closure being attached to the earring. Usually, I love that as it gets rid of that pesky 'I lost the back!' problem. However, these earrings just aren't it and they hurt. My other pair of Givenchy earrings have the more common closure with the removable back.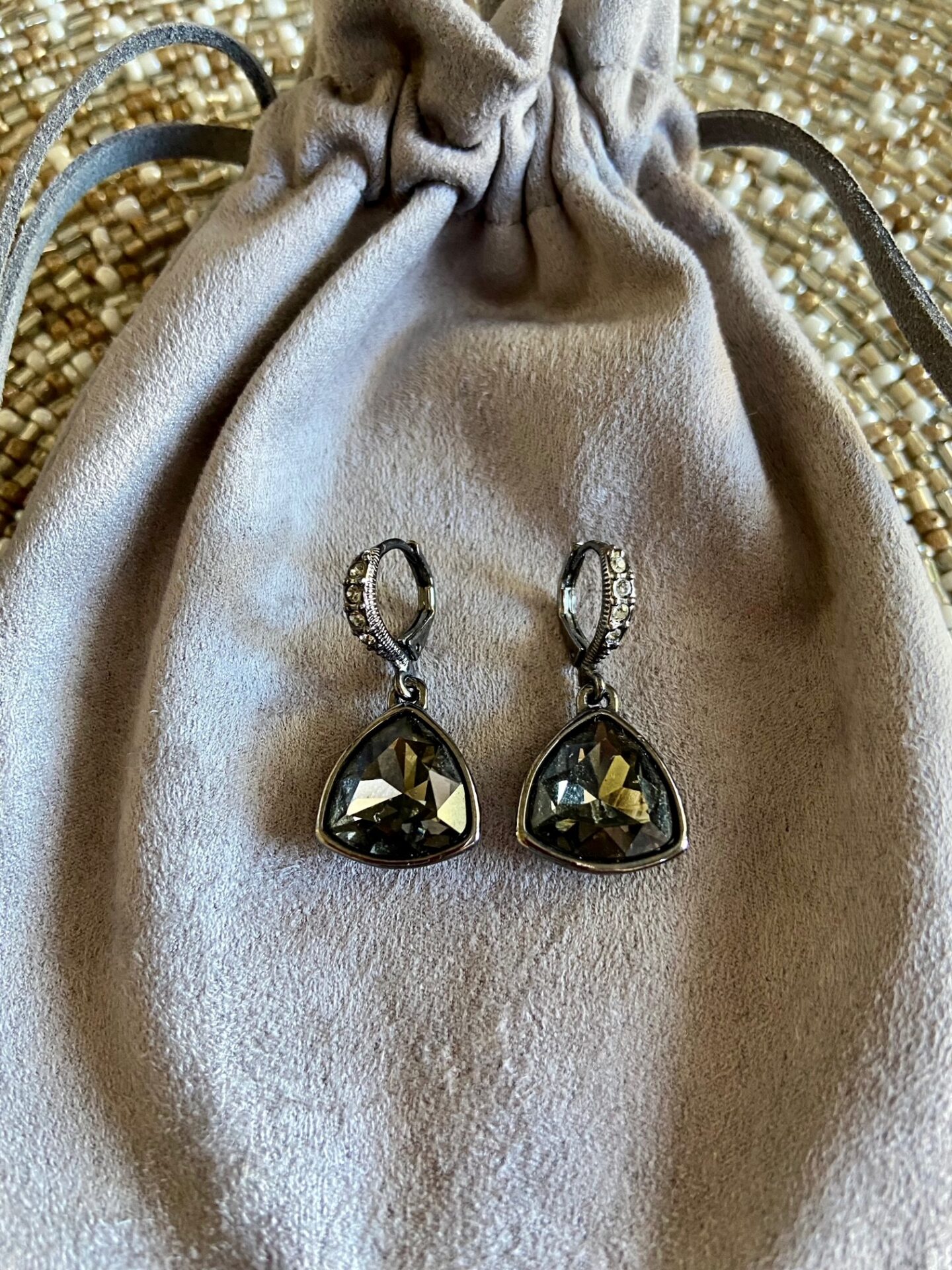 On top of that, they're invisible in my hair. When I purchased them, I had brown hair with highlights, but I've been dying my hair black for a couple of years now and they just blend right in. So, not only are they unbearable to wear, but you can't even see them when my hair is down! I purchased these at Nordstrom Rack so I didn't spend too much on them, but still. It's a purchase that I would take back if I could. If I'm being completely honest, I saw the 'Givenchy' label and just said "take my money" as it was in the very early stages of my luxury journey.
Jimmy Choo Loafers
Putting these on my list physically hurts my heart. I wanted so badly to love these and wear them everywhere, but that just wasn't the case. I will start out by saying that my sales associate at Jimmy Choo wears these to work, which means they ARE comfortable. If an SA wears them, there's a reason for it. However, I wasn't so lucky. I often have issues with shoes hurting the back of my heels. At this point, I'm pretty sure that it's my feet that are the problem and not the shoes.
Well, these bad boys actually DESTROY the back of my heels. One of the first times I wore them out, I had to buy an emergency pair of sandals from Mango to change into because they quickly turned the back of my heels raw. Since then, I've tried to wear them a couple times and one shoe seems to be worst than the other. However, I can't wear these without no show socks that cover my heels or band-aids/blister pads. To me, that's just too much effort to plan out, so they often just catch dust in my shoe closet. Speaking of dust, these guys are suede, so you can imagine the never ending struggle.
Suede is such a pain to take care of as it's easily damaged and water is your worst enemy. When you wear a suede item, you truly have to plan ahead and make sure the weather is clear and you aren't going anywhere that risks damaging them. Again, too much effort to wear a pair of shoes, you know? I do plan to try and wear these more in the future as they're my only pair of loafers at the moment (the Gucci loafers are on the list, don't you worry!). I've been starting to wear anti-blister pads whenever I wear heels out for more than a couple of hours, so I'm getting more used to the extra effort to wear my shoes.
Valentino Slides
Okay. I know I mentioned these in my Best and Worst Purchases of 2020 post, but I honestly consider these shoes the worst luxury purchase I've ever made. I still have no idea what got into me. At the time I purchased these, I owned a pair of Nike slides that I loved and wore all over the house and to run small errands where I wouldn't be seen too much. They were ridiculously comfortable. As I started to purchase more and more luxury, I must have thought that a luxury pair of slides was a genius idea. Valentino was my favorite luxury brand at the time, so I decided to do some damage online shopping…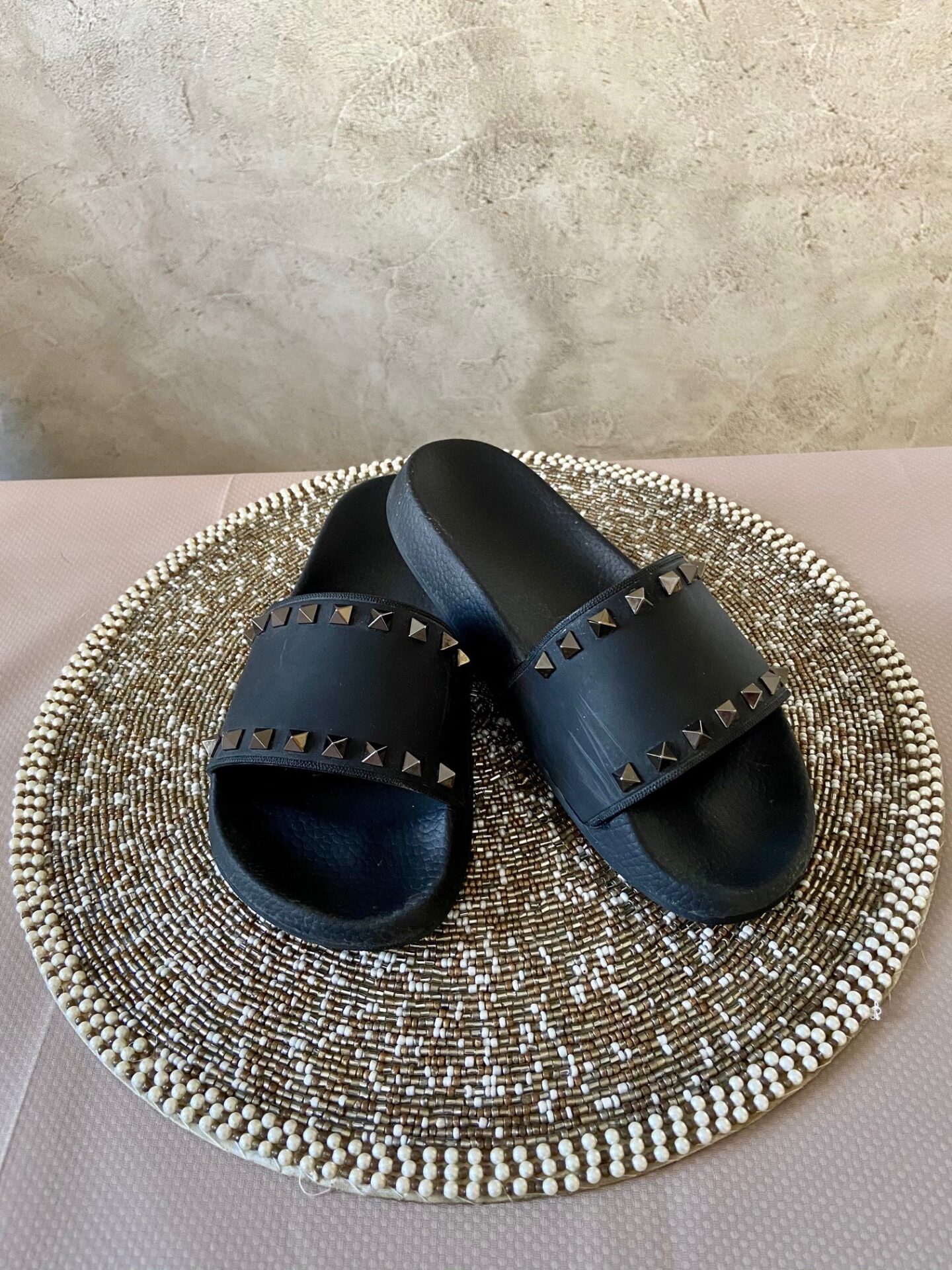 These are the most uncomfortable shoes I've ever owned, and that includes heels. The rubber strap just digs into your feet and left the top of them raw and painful. I tried to use them as beach shoes, but I couldn't even manage to wear these across the street to the beach without my feet hurting and getting sore because of how badly the strap just digs in. I'd have to walk funny in them to try and avoid friction. Eventually, I just stuck these in the back of my shoe closet and tried to forget…
Pain aside, when it boils down to it, I spent a ridiculous amount of money on a pair of RUBBER SLIDES. I'm not opposed to a pair of rubber shoes (one of my favorite pairs of sandals I own by Valentino is rubber!), but a slide?! Really?! They're not a classy shoe, they're quite masculine, and a massive waste of money. I can't even imagine their margin on those… And the little rockstuds? Well, they constantly scratch against the rubber of the other shoe as you walk. The inside portion of the straps were all scratched up from those darn rockstuds…
I'm happy to report that I recently sold these and I am SO happy to be rid of them. It's about time, really… I hope that the new owner has better luck than I did!
Final Thoughts
Overall, these aren't horrible luxury purchases. All three of these items were under $500 if I remember correctly, which is pretty stellar. I've heard of so many other people who spent thousands on an item and regretted it, so in the grand scheme of things, I did good, especially since one of the items is already sold!
All three of these luxury purchases do have one thing in common: they were impulse purchases. So, the moral of the story? Do your research, first. Sleep on it for a few days or even a week! Take your time and see if you still love the item after taking your time to think about it. Research it if at all possible and definitely consider if it goes with your current wardrobe or not. This is even more true if it's on sale. So many women (and even men!) impulse purchase items because of that giant red 'sale' sticker and later regret their purchases. Rise above the sales and the impulses, guys!
Finally, remember that these are my opinions only. 🙂 If you love an item that I regret, that is PERFECTLY fine! The beautiful part about being human is that we are all different and we don't love the same things and that's okay.
Do you have a luxury purchase that you regret? Let me know down below!
Subscribe
Make sure to subscribe in order to get a weekly email reminding you of my new blog post. 🙂 I appreciate you!
XO, Tess