It's time for another luxury brand review and this time, we are going for Jimmy Choo shoes! As a personal stylist and lover of luxury, I've had my fair share with luxury brands, especially when it comes to shoes. I tend to collect them! However, not all shoe brands are made equally. What is considered trendy isn't necessarily comfortable or even good quality!
I'll be going over my general experience with the online and boutique services, specific pairs, overall wear and tear, and comfort. So, are Jimmy Choo shoes a good investment?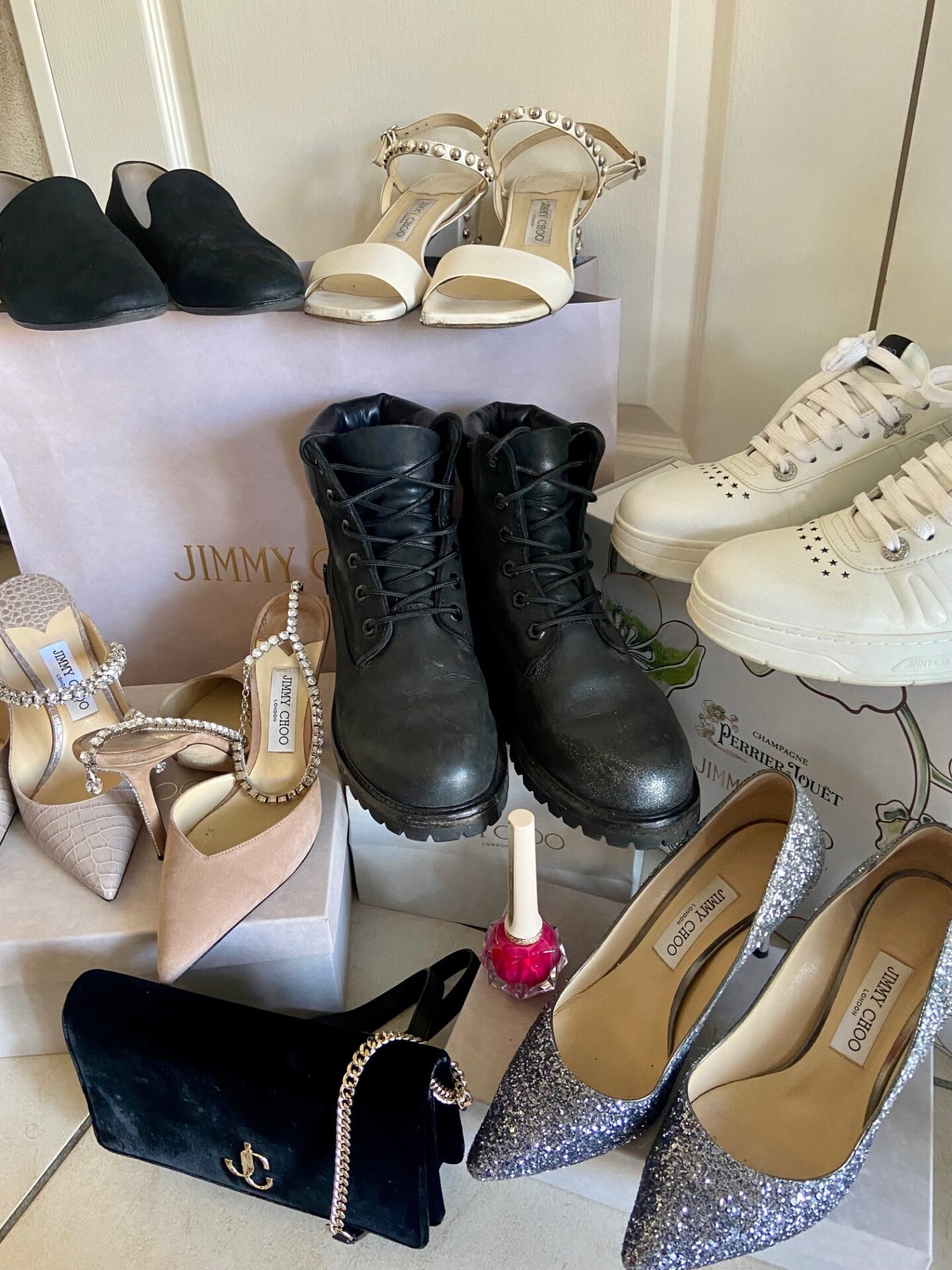 Jimmy Choo Shoes : Overview
Jimmy Choo was technically my first shoe purchase via Nordstrom Rack. However, my first official purchase didn't happen until a couple years later (after purchases from Prada, Louboutin, Valentino, etc…). So, to say the least, it wasn't very high on my list. In the United States, I didn't live near any boutiques so if I wanted a pair, I'd have to go online. I didn't make it out to a boutique until I moved to France and I can tell you that it's been an amazing experience.
Online, there have been absolutely zero problems. The site works well, shipping is flawless, and the packaging is perfect. Plus, Jimmy Choo tends to have sales on their products a few times a year and that includes their online site. You can often get discounts on third party retailers such as Farfetch and Nordstrom as well.
As for the boutique experience, I first called them when the Jimmy Choo x Timberland collaboration (check out my review on the first collab here!) dropped the first time. I had to have those black boots! As I didn't live in Cannes at the time, I wanted to make sure it was in stock, first. The sales associate was absolutely amazing and kept in touch with me via Whatsapp. Since then, I've been working with her for two years for personal purchases, but also for my clients and friends. I honestly always feel like a VIP client there. Champagne is offered. Sweets are given. Samples galore. And you never feel judged or pressured.
Now… What about Jimmy Choo shoes themselves?!
Jimmy Choo Shoes – Are They Worth It?
I have owned a total of 10 Jimmy Choo shoes and a purse. Out of that, I've only sold two pairs of shoes. The first pair of Jimmy Choo shoes that I ever owned, and subsequently sold, was this pair of extra gold wedges below. While they were probably the most comfortable pair of heels I have ever owned, they just weren't my style and quite gaudy. I never really went for them because of that and ended up selling them before moving to France. However, the sparkles never budged and I once walked home a whole mile in them and my feet weren't really in that much pain, which was impressive.
The second pair that I recently sold is a new purchase from this year. I've mentioned them before so I won't go into details, but I essentially impulse bought (we all make mistakes!) them too big and they hurt me. If the size was fine, I would've kept them!
With that said, I own more Jimmy Choo shoes than any other brand by far and I don't see that changing anytime soon. While the experience is always outstanding, I just honestly love their products! It's always high quality, most pairs are very comfortable, and the few times I have issues, it's taken care of at a very low cost or even for free! I will highlight a few specific pairs…
These babies have been all over social media, but I'm proud to announce that I loved them the second they came out! The Saedas are gorgeous, comfortable (which surprised me due to their lack of support on the heel and ankle) and probably the shoes I get the most compliments on. The only downside? They're fragile. The gem that dangles in the back falls off easily as do the gems on the heel. The good new? Jimmy Choo is aware and boutiques are ordering spare crystals to replace them for free.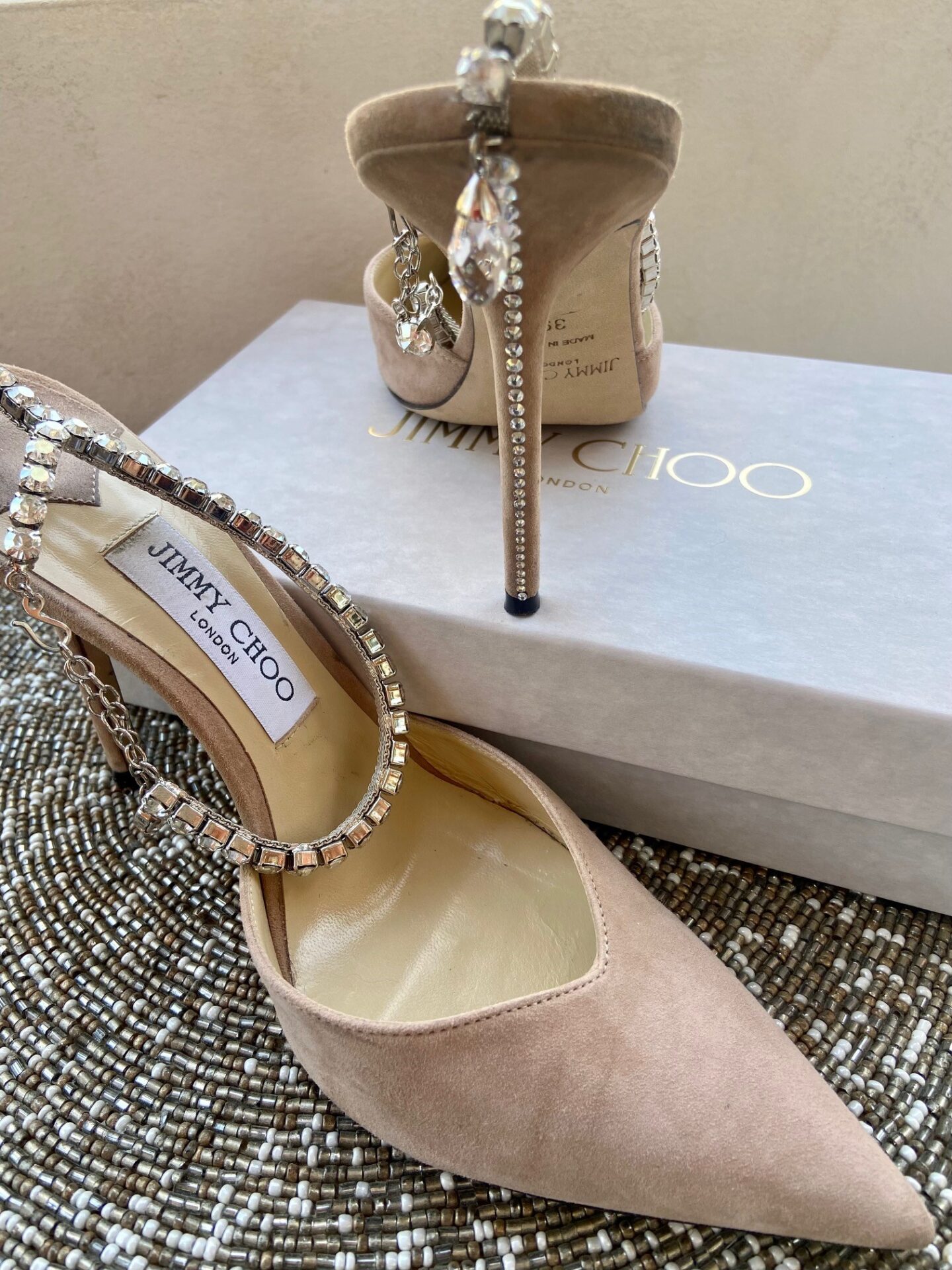 Another pair deserving the spotlight is the Aadras. I purchased these for a comfortable, low, every-day summer sandal. These exceeded all expectations! You can easily walk all day in these with no problems. I wore these so much that the heel ended up being damaged. They replaced the whole block heel for only 60€. 10/10 would recommend.
Pros and Cons
Warning: the pros will outweigh the cons by far. To be honest, I haven't found a lot of cons to Jimmy Choo shoes, or even their accessories. However, I did come up with a short little list to help you further understand this brand and where they truly shine.
Pros:
Wedding shoes – Jimmy Choo is king. Period. They have a whole wedding collection and their swarovski and glitter options are next to none.
Price point – for luxury shoes, they come up lower than most brands. Plus, they have multiple sales a year that often includes iconic models.
After care service – it's often affordable, if not free, and handled professionally at the boutiques.
Comfort – every foot is different. However, Jimmy Choo shoes are consistently more comfortable to me.
Cons:
Shoe/purse matching – while they do offer purse selections, it's still quite new and hasn't quite broken into the market yet. Options, styles, and colors are limited if you want to match.
Fragile – a lot of their iconic and gorgeous heels are fragile. The satin? Suede? Crystals? They damage very easily. This isn't a brand issue as it's the fabric, but it's good to keep in mind.
Understated – This can be a pro as well, but unless you know the brand, you probably won't have people recognizing the shoes on the street (such as Louboutin).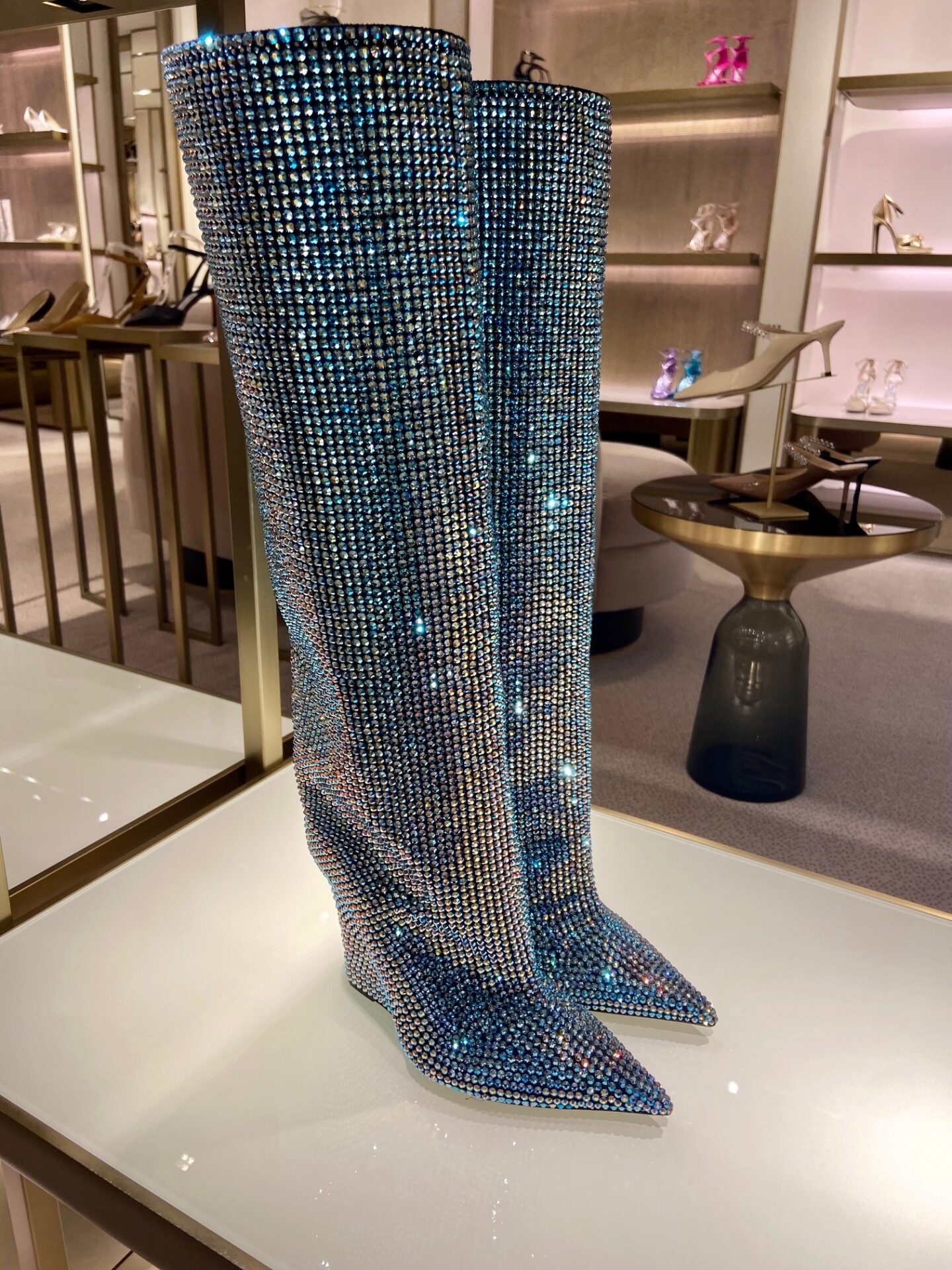 Final Thoughts
Like the name suggests, Jimmy Choo shoes are outstanding. I mean, it has to be with the name Choo, right? When it comes to comfort, price point, and overall style, they stand out in every way. The brand is also expanding into swimwear, jewelry, and collaborations. To me, this is a good sign that they're in a good position to continue to grow the brand. It also means that the price point is often lower because they aren't as known in the world for anything other than shoes yet, so you can get yourself a cute little purse or swimsuit at a respectable (luxury) price.
The experience has always been stellar in boutique and online, the after-sale service is on par, and my goodness, the shoes are just gorgeous, am I right? Whether you want a casual, every-day shoe, a statement pop of color heel, the perfect wedding shoe, or some low-key kicks, Jimmy Choo has something for you, and then some. And gentlemen – this goes for you, too. Don't sleep on JC as they have some amazing and elegant options for you.
As a personal stylist, the second I see my client has the budget for Jimmy Choo, I plan a trip there and I've never had a client leave without at-least one pair. 😉 You've been warned!
Links

SUBSCRIBE
Make sure to subscribe in order to get a weekly email reminding you of my new blog post. 🙂 I appreciate you!
XO, Tess
**Some of the above links are affiliate links, which means I get a small commission if you buy something using my link. You don't have to use them if you'd prefer not to. You do NOT get charged extra for using the above links.