I've been wanting to do a luxury review on Louboutin shoes for a while now, but I've been putting it off because it won't be very positive and that hurts my heart! I've been a die hard fan of the brand since I was 13 and first discovered them on Pinterest. It was a dream of mine to own a pair of beautiful red bottom Louboutin shoes. I would imagine myself in a pair ALL the time throughout my teen years. Well, at 20 years old, I bought my first pair! Since then, I've purchased three more. And honestly? It's been a MAJOR disappointment. Yup. You read that right. A disappointment…
If you'd like to have a say on future blog posts, make sure to follow me on Instagram! I periodically ask for your help on which post you'd rather see next via Instagram polls on my stories. 🙂
The Louboutin Shoes that started it all
It all started with a trip to Las Vegas… I was walking around the Forum Shops in Caesar's Palace and I was just having a grand old time, living my best Vegas life. It was my second time there, but my first time with friends. I decided to stray from the group and started window shopping. At this point, I never purchased anything luxury in boutique, however I wanted that to change. As I was exploring, I noticed the Louboutin store and I made a bee-line towards it. I'll be honest – customer service wasn't that great. While I wasn't dressed for the occasion, that doesn't mean a thing and shouldn't impact your level of service, but I digress.
I knew I wanted a pair of classic, timeless pumps that I could not only wear to work, but also to a fancy dinner. I decided to try on a pair of the black New Simple Pump. The sales associate recommended I go up a whole size and I (sadly) took her advice. While they felt perfectly at the store, I'd been in Vegas for a day or two at this point and my feet were VERY swollen. In the end, they turned out to be half a size too large and I could barely wear them.
However, I don't fault the shoe for this. What I do fault it for? The red bottoms. Oh my gosh. The SECOND I wore these on the street, the red started to fade! I couldn't believe it. For the price, I expected my red soles to stay, well, you know, red… That's the WHOLE POINT of the brand. Even going from your car to a restaurant would ruin them. So, I was stuck with these non-red bottom shoes that were too big for me. I wore them a few times to work (I'd wear flats and change into the heels when in the office to avoid damaging the soles more), but that didn't last. I ended up selling these on Poshmark a few years later.
Second Chance
In 2018, I decided that it was time to give Louboutin shoes a second chance. I still loved them even if the red soles disappeared within two seconds of walking. At least the arch stays red and I could always buy a sole protector. I went to Nordstrom in Minneapolis with a friend and decided to try on a new pair. At this time, I owned a classic pair of black Prada heels that were very comfortable, so I opted for a nude pair. These were the Decolette heels, which have now been renamed the Kate (not to be confused with the torture devices known as the So Kates). Now these babies were comfortable to me! I could easily wear these to work all day. I did work an office job, but still. That's a big deal for Louboutin shoes.
The experience was great and I was thrilled with my purchase…. For about seven months. I was walking down the hall at work and I felt something snap in one of my heels. I have absolutely ZERO clue how it happened, but the leather portion of the heel which covers the metal bit? It actually snapped. It was just dangling, hanging on for dear life, with the metal part of the heel exposed and slightly bent! I. Was. Livid. In 7 months, they broke on me. Guys – even at the time, I was an advanced heel wearer. I know how to properly walk in them, care for them, etc. Never have I ever had this happen before, and three years later with a much larger heel collection? I still haven't had this happen again.
I contacted Louboutin customer service right away and you know what they told me? They rudely said it's not their problem as they weren't purchased directly through them. So, I sent Nordstrom an email and they were actually charming. They said if I send the shoes back to them, they'll give me a full refund, which is exactly what I did. Sadly, I no longer have the photo of the broken heel. I deleted it shortly after the whole ordeal because it honestly made me quite upset.
Third time's a charm… Right?
So, after two horrible experiences with Louboutin shoes, you'd think I'd be done with them, right? At this point, I owned shoes by Prada, Jimmy Choo, and Valentino and I have nothing but great things to say about those brands. I had options, now! But nope – I go back to Louboutin because I like having my soul crushed. So, in 2019, I hopped onto the Saks Fifth Avenue website and I crack on a pair of booties. Now with these, I actually thought it through. The heel is thicker, so no snapping should occur. They're also a bootie, and those are typically more comfortable than a high heel. I also ordered some sole protectors in order to preserve the stunning red bottoms. I actually ended up getting them professionally soled in France as you can see in the photos.
I'm happy to say I LOVE them! Come fall/winter time, I wear these all the time. They've gone to bars, clubs, on vacation, AND ran errands all over town. I have used and abused them. There are a couple things that do irritate me about them, but overall? They're in my top three favorite designer heels that I own and they're some of my most worn shoes, too.
The downsides? Well, the price. They're stupid expensive for a pair of heels with a red sole that comes off in two seconds. They also go up higher on the ankle and the leather is quite stiff. This makes it very hard to bend your ankle and makes taking stairs a bit tricky. If you force your ankle to move, you will bend the leather which you can see. They also crease very easily. I'll be honest – they look like they're in rough shape in the photos, but when they're on, you can't really see the creasing which is all that matters.
Overall, I actually do recommend these. These are the Janis booties, but they aren't being sold anymore. However, the Adox looks VERY similar. I think it's just missing the detailing on the side, but the shape of the boot and the heel look the same to me.
Will I ever learn?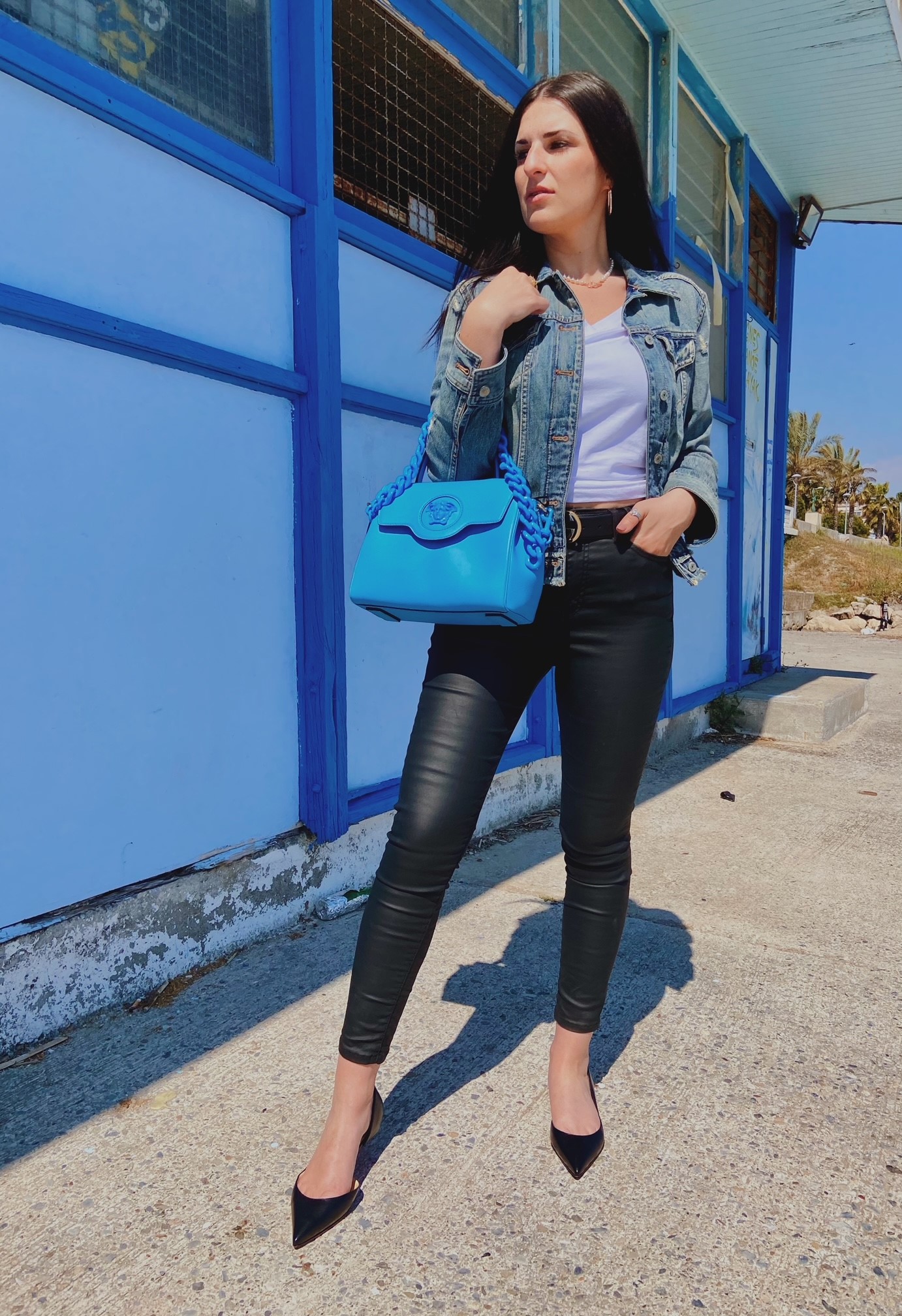 At this point, I thought I'd shoot my shot with Loubies again because the boots worked out. Maybe I just had bad luck and this isn't a poorly made shoe brand? Spoiler alert – it is… In 2020, I purchased my latest pair of Louboutin shoes. I decided to go a little crazy and opted for a flat. I thought I'd wear them more since they didn't have a heel and I wanted that boujee red bottom (with clear soles) flex. These are a little bit big on me, so at first I didn't wear them. This year, however, I decided to break them in and give them a fair chance. They were tough to break in and gave me some blisters, but I wasn't too upset over it and actually quite enjoyed them on.
What I'm upset about? The fact that they're falling apart after only wearing them out for a couple hours a handful of times. Guys. The SOLE IS FALLING APART. I kid you not. When I noticed that, I wanted to scream. Not only that, but the tip of the flats is fading, and the back? It's sort of unthreading. I didn't even know a leather shoe could do that… I just started to break these in and was enjoying them, and they fall apart! I'm honestly disgusted… I'll keep wearing them for now and I'll eventually take them to my shoemaker to see if he can do anything, but I'm not very hopeful.
Final Thoughts on Louboutin Shoes
Louboutin shoes are the reason why I'm so into fashion and luxury today. I still remember those heels I saw online 12 years ago like it was yesterday and I think a part of me wanted to live out my little girl dreams and have a closet full of red bottoms. I have a real tough time accepting the fact that these shoes ARE overrated. You don't get your money's worth with them and will often end up regretting your purchase. Most of their shoes are known for being uncomfortable and the quality isn't up to par with other designers. Even the iconic red bottom doesn't last.
Will I purchase from them again? Maybe. I actually wanted a pair of black Galativi's this year, but after seeing what happened to my flats, I did put off that purchase until next year at the earliest. Will I regret it? I sure hope not, but at this point I'm 3 for 4 in terms of regrets. However if I purchase those heels, I truly believe that it will be the last time. There are much better options out there. I won't say that I don't recommend them; there is an undeniable appeal, sexiness, and a sense of status to them, but do purchase at your own risk. There is a very high chance they'll be too painful to wear, fall apart, or just full on break early on. They're a brand I wouldn't recommend investing in if you're early in your luxury collection, either. If you're experienced and want to give it a shot, sure! Just be aware of the risks.
Brands I fully recommend
I wanted to include a few brands that I 100% recommend for shoes, own multiple pairs of, and have a proven track record. That way, if you're on the fence about Louboutin shoes, you have some other options to research.
Jimmy Choo – The most comfortable shoes. I absolutely love them and find them reasonably priced in terms of luxury. The Romy is my favorite, and most comfortable, style in my opinion.
Valentino – The brand I own the most shoes from! I love their classic Rockstuds and I find their shoes quite comfy, too.
Stuart Weitzman – They are known for having comfortable heels AND they're on the more affordable side of luxury. Their nudist sandals are a classic, must-have piece.
Are you a fan of Louboutins? Let me know down below and make sure to check out my post on the Jimmy Choo x Timberland Combat Boots!
I often get asked about my red bottoms, so I have linked them down below for your own information and if you're curious! 🙂
New Simple Pump (here)
Decollete/Kate Heels (here)
Janis Booties (similar here)
Iriza Flats (here)
Galativi (here)
Subscribe
Make sure to subscribe in order to get a weekly email reminding you of my new blog post. 🙂 I appreciate you!
XO, Tess
**Some of the above links are affiliate links, which means I get a small commission if you buy something using my link. You don't have to use them if you'd prefer not to. You do NOT get charged extra for using the above links.