Skincare routine. Something that wasn't even in my vocabulary until a few years ago. I didn't even have a morning routine! Let alone an evening one (this will be a future post!). I was the type of girl who would wash her face in the shower in the AM, use Dove soap on my face, and then apply BODY cream to really finish the job. It. Was. Terrible. When I went to college, my roommate had skin problems and had one heck of a skincare routine to combat it. I do believe she's the reason I decided to look more into taking care of my skin. She'd always say that taking care of your skin now would prevent lots of aging problems down the road. That resonated with me.
The Start Of A New Skincare Routine…
And so my journey of finding the right skincare routine began. I went to my beloved Sephora and just grabbed whatever I thought had cute packaging (would not recommend this!) and gave it a go. Funny enough, I DID find one of my holy grail products this way! The other way was through… Sephora samples. Yup, you read that right. I would typically order Sephora items online because in the States, you get a ridiculous amount of samples, plus coupon codes for additional items. It's nuts. After I got over ordering perfume samples because I legit owned over 40, I switched to skincare product samples. Some were great, others not too much. I wouldn't recommend this trial and error method either, but at least my mistakes can be lessons and I now have a nice list of products that I LOVE!
For reference, I have normal to dry skin, I'm not prone to acne and I don't get many breakouts unless I'm super stressed out. Needless to say, 2020 has brought on quite a few uninvited pimples… I do have milia, but I tend to get those extracted professionally as I never found a product that helped get rid of them. If you know of one, let me know in the comments! 🙂
Daily Face Wash
Origins Checks and Balances Frothy Face Wash. You guys. Oh my gosh. I LOVE this product. This is probably the item that I've used the longest, and the product that I umpulse bought based on packaging. It's amazing for someone that has more 'normal' skin. I don't find the smell too overwhelming, I love the fact that it foams, and it really cleanses my skin! Personally, that's all I need in a face wash. I don't need anything fancy, just please clean my face gently. Origins also makes a tinted moisturizer I've used for probably 4 years now, too. I love that brand. Sadly, my Origins bottle is looking a little worse for wear, plus it's almost out, so I didn't photograph it… 🙂
Before moving back to France, I did buy the Tatcha Rice Polish Foaming Enzyme Powder because of all of the hype around their product. I haven't used it too much, but when I have, I do think my skin feels extra soft afterwards. I'm almost out of my Origins cleanser, so when that's done with, I plan on just using Tatcha to really test it out before repurchasing Origins. I'm not 'cheap' with my skincare, but I feel like Tatcha has to work MIRACLES on my skin in order for me to switch to it completely because of it's price point compared to what I already use.
Finally, this is a more recent purchase! I decided that I should probably use a fancy little handheld face scrubber to better clean my face and I'm so glad I did! I truly notice a difference in my skin since I've started using this little guy. This looks like a dupe of Foreo, and I'm totally okay with that. I don't see myself spending over 100 Euros for a face scrubber when my 20 Euro one does the job and does it well! The one I linked is from Amazon France, but I did look and the US version has a ton of dupes, too!
Toner – The Skincare Routine Essential I Didn't Know I Needed
Toner is something I've only been using for the last year or so. I thought it was pointless and one of those 'money grab' products that was hyped up, but didn't do much. And then one drunken night, I purchased one by a brand I already used for my lotion… Olehenriksen (I love them. Like, a lot. So much.) The first time I used the Olehenriksen Balancing Force toner, I about gagged. There was a good amount of leftover tinted moisturizer on my skin that I thought was removed from my makeup wipes, but boy oh boy was I wrong. I thought it was a fluke, but it happens every time… Not only that, but my cotton pad is all gross even on days where I don't wear makeup because of dirt and grime we accumulate in our skin throughout the day. I am now a toner believer and advocate!
Face Lotion
I've been using the C-Rush Vitamin C Gel Moisturizer for a couple of years now. It's what started my love story with Olehenriksen. There's nothing too crazy about this guy. The smell is like oranges, it makes my skin feel moisturized ALL day and look bright and refreshed. I'm a fan! I've never felt the need to try something new! Simple, yet effective.
Eye Cream
My final morning skin routine is yet another Olehenriksen product. Surprise, surprise! I'm a fan of using mainly the same brands. I feel like the chemistry between them works better or something. This is my assumption based on ZERO knowledge, FYI. But in my head, it makes sense! I have undereye bags. Like, bad. Even if I get a wonderful nights sleep, they are always there. I don't tend to use concealer, so when I saw Olehenriksen made a product to brighten my undereyes, the Banana Bright Eye Crème, it was a 'shut up and take my money' moment! I feel like this product is decent, but I could probably do better! My undereyes do end up looking a little brighter, and honestly, shinier, but I don't see a huge difference on days where I skip it because of pure laziness. Like, it's not bad, but it's not a miracle product, either.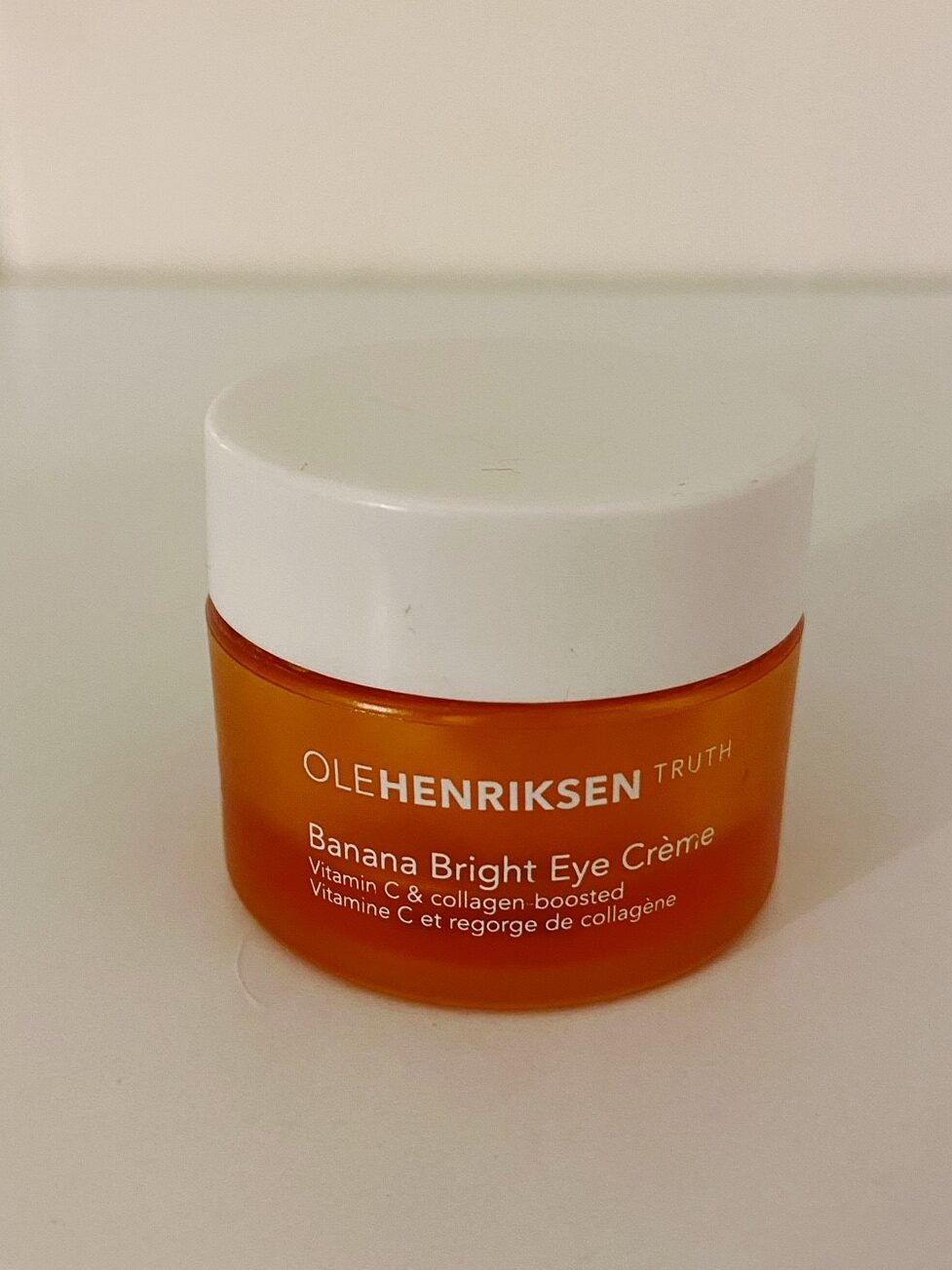 There you have it! My skincare routine for the AM. I am in no way an expert, but I do take my skincare very seriously now and I am very proud of it, even if it's not perfect! 🙂 I often get compliments on my skin my family and friends and I've been asked about my routine quite a few times, so I hope that it can help you out a bit. Be sure to check out my Evening Skincare routine, too!
Shop My Skincare!

What are some of your holy grail products?
XO, Tess
Subscribe
**Some of the above links are affiliate links, which means I get a small commission if you buy something using my link. You don't have to use them if you'd prefer not to. You do NOT get charged extra for using the above links.