Hey guys! As promised, here is my evening skincare routine. If you haven't already, I recommend checking out my Morning Skincare Routine since I use a couple of the same products/brands and won't be going in depth about them. 🙂
I prefer my evening skincare routine over my morning one because the products I use truly make a difference on my skin! Typically, products meant for the evening are stronger and more effective since you are sleeping (and not in sunlight) while they're doing all the work. Also, I didn't go through as much trial and error with my PM routine versus my AM routine. By the time I decided to get into an evening routine, I already had my favorite brands figured out and an idea of what to look for in my products.
Evening Face Wash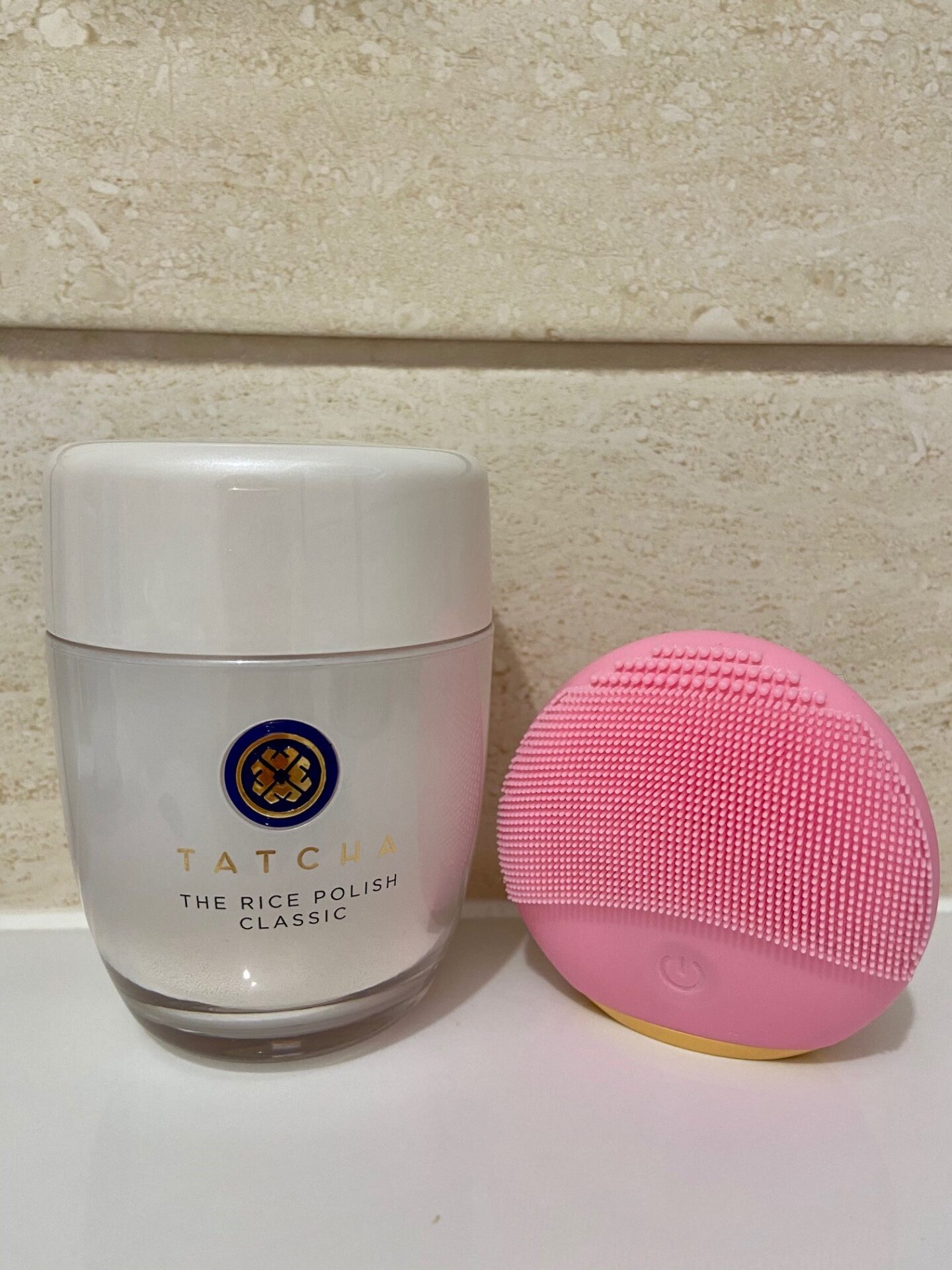 This one is going to be the exact same as my morning routine! Since that post, I've had a good amount of time to use the Tatcha Rice Polish Foaming Enzyme Powder. While it does the trick, it is so inconvenient to open when I'm in the shower in the AM and extra powder always comes out on accident which is a complete waste. If they changed the container, I'd be more into it. Once I run out, I'm going back to my trusty Origins Checks and Balances Frothy Face Wash! I'm still using my Amazon Forea Dupe and would 10/10 recommend it.
I always try to wash my face in the evenings, but I'll be honest, it doesn't always happen… However, the rest of my routine is rock solid and it's very rare when I skip!
Toner
This is probably the reason why I don't always wash my face for my evening skincare routine… The toner does SUCH a nice job of getting rid of the day's dirt and grime, even if it's not the same as actually washing my face… The Olehenrisken Dark Spot Toner is a lot more intense than my morning one and, like the name states, targets dark spots, along with fine lines, wrinkles, and uneven texture. This one used to tingle a bit at first, but now my skin is used to it. I love both of Olehenriksen's toners, they're just SO GOOD.
Serum
A new addition to the family! I finally cracked over Black Friday and I bought this little guy: the Olehenriksen Glow Cycle Retin-ALT Power Serum. I've been wanting to try out a serum for a long time now and I'm glad I bit the bullet and did it and I'm a fan. My skin looks more radiant in the mornings and healthier. The serum is straight up purple. Actually, not just purple, but a SHIMMERY purple. I don't know what's up with that, but it goes on clear on my face and my pillow case hasn't gained any purple streaks, so that's good. This is from the same line as my face lotion which I swear by. I'm a big fan of bakuchiol (a retinol alternative which is also plant based!). One down side is the amount of product that you get. I've been using one pump daily for about three months (it was shipped from the States and I didn't start using it until a few week after it was purchased) and I'm already out! For the price tag, it's a bit of a bummer.
Face Lotion
Much like my mornings, my evening skincare routine involves a lot of Olehenriksen. For my lotion, it's the Goodnight Glow Retin-ALT Sleeping Crème. It's basically the same as the serum, but in a lotion format. I've been using this one for a while now and I love how my skin feels in the mornings after using it. Everything this lotion targets are things that I really care about and focus on, such as wrinkles, fine lines, elasticity, uneven skin tones, etc. This lotion was clearly made for me in order to solve all of my skincare concerns.
Undereye Cream
I'm almost ashamed to admit this one because it is SO ridiculous. Hear me out… If you aren't familiar with Sephora, they have a reward points system. Every purchase you make adds points to your account which you can later spend on limited edition Sephora branded goodies, mini product sets, or even trips and special experiences if you really hoard the points. Sometime in late 2019/early 2020, they had the best deal I've ever seen: 500 points for four mini La Mer products. La Mer is a seriously expensive skincare brand that lots of Youtubers, celebrities, and bloggers swear by. Obviously, I spent my points on it right away to see what all the hype was about. The products were good, but I didn't think they were worth the money they're charging full price…. Except for the La Mer Eye Concentrate. It's magic in a tiny tube. I did run out about a month ago, but it honestly lasted FOREVER. I haven't quite been able to talk myself into spending 150-200€ (depending on sales) yet, but I do plan on purchasing it soon. In the mean time, long live my dark circles! I don't even want to consider another product now that I've had a piece of undereye concentrate heaven. I still find it stupid expensive for an undereye cream, but my undereye circles were ACTUALLY lighter which has never happened to me before. It's crazy!
Lash Serum
My final, and favorite, product: The GrandeLASH MD Lash Enhancing Serum. This was originally a sample that I got for free with an order a couple years ago. At first, I was skeptical. I read some horror stories about lash serums causing burning, massive pain in the eyes, or even lashes becoming brittle and falling out! The reviews on this product were very hit or miss. About half said it's magic while the other half had a bad reaction right off the bat. I figured if the reaction happens straight away, I'll give it a go on a weekend and see what happens. Thankfully, I'm on the magic side. This product actually works, guys! I used to get lash lifts in the US and my amazing cosmetologist even complimented my lashes and asked me what I did because they were so long now! Funny enough, I no longer get regular lash lifts since I moved to France because they already look like I have one, especially with mascara on. 😉 If you decide to try it out, just be careful since it can cause bad skin reactions. I definitely would avoid it if you have sensitive skin or are prone to reactions.
Evening Skincare Routine Details and Final Thoughts
And there you have it! My daily evening skincare routine. I'm pretty happy with it at this point and I truly believe that I have found the products that work for me and my skin type. Again, friendly reminder that I am in no way, shape, or form, a skincare expert. This is just what I do and it works for me. Skin is different for everyone and what works for me may not work for you and vice versa. Do keep that in mind. 🙂
I hope you all have a wonderful week!
Evening Skincare Routine Details

XO, Tess
Subscribe
**Some of the above links are affiliate links, which means I get a small commission if you buy something using my link. You don't have to use them if you'd prefer not to. You do NOT get charged extra for using the above links.