I've always loved playing with makeup from a young age. Needless to say, my go-to makeup look has changed dozens and dozens of times! When I was 14, I visited New York for the first time and my aunt brought me to Sephora, also a first. I made a bee-line for this bright and I mean BRIGHT electric blue eyeshadow with chunky silver sparkles. It became an obsession and I wore it everywhere, including school… Now, keep in mind that I didn't know how to apply makeup at the time so the blue was patchy, uneven, allllll over my lid, and looked terrible. My mom actually confiscated the eyeshadow for my own good! At the time, I was livid. Now, looking back, I have thanked her SO many times, she's truly the real MVP and had my back on that one.
Thankfully, I am lightyears past those dark (electric blue) days and I'd say I'm pretty good at applying makeup! I am 100% self taught thanks to YouTube and lots of practice. So, I give you my go-to makeup look when I don't want full glam, but I also don't want my simple everyday look. 🙂 This is also the look I tend to go for when shooting blog or Instagram photos.
Base
Here's the tea. I don't wear foundation and I haven't in years! I find that it looks too cakey and unnatural on me. It's just not a good look and trust me, I have tried a ton of brands (Urban Decay, Fenty, Tarte, Too Faced, Maybelline…). With that being said, Fenty was the best, but it still didn't look natual enough for my tastes. Plus, I hate the feeling of foundation on my skin. It's like my pores are being clogged and can't breathe! Enter tinted moisturizer, my holy grail. Since I broke up with foundation, I have been using the Origins GinZing Tinted Moisturizer. This stuff is magic in an easy squeeze bottle because it evens out my skin tone, doesn't hide my freckles, and it adapts to my skin tone which is amazing for summer/winter skin. I have zero complaints. I recently switched over to the Nars Pure Radiant Tinted Moisturizer because I've been into dewy looks lately instead of matte. So far, I love it! It is really radiant so that does take some getting used to if you're usually a matte girl like me.
Eyebrows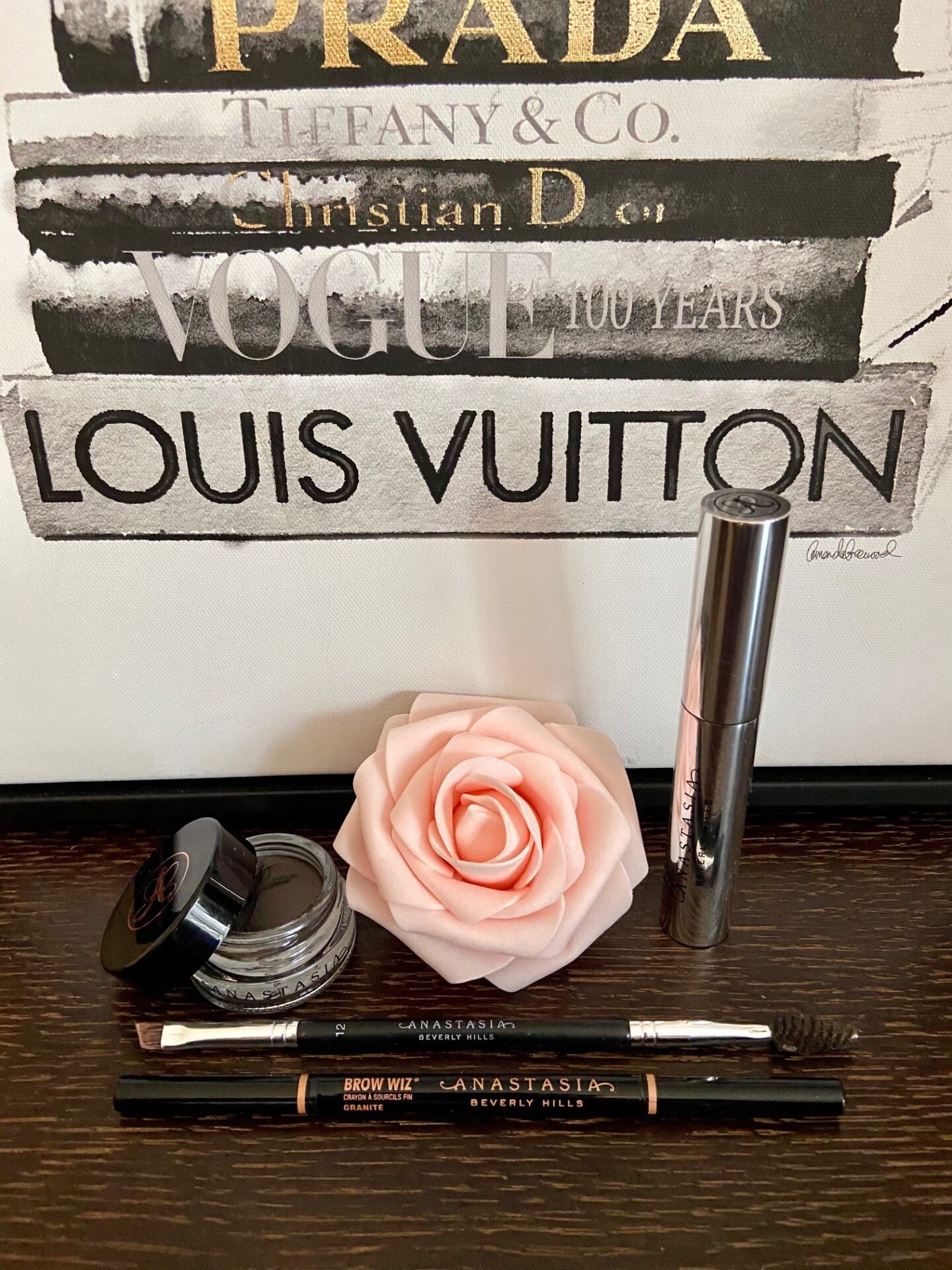 Eyebrows. They are SO important. If your eyebrows aren't on point, it honestly ruins the whole look. I've seen some old pictures of me where my eyebrows were wack and it was ALL I could focus on… I used to use the Anastasia Dip Brow Pomade when Instagram brows were all the rage, but now I've come back to my trusty Anastasia Brow Wiz in Granite because I really dig that more natural look. Plus, I'm blessed with naturally thick eyebrows (thanks again, mom!) which helps. I will never use anything other than Anastasia products for my brows. They're products are perfect. I also use their Clear Brow Gel to set them in place and make them appear more fluffy by brushing them upwards ever so slightly.
Eyeshadow Makeup Look
I've gone through sooo many different trends here. From a black smokey eye, to colorful liner, and even the loose glitter and glue combo! You name it, I probably tried it. Now, when I want to do a cute look without going all glam, I stick to neutrals and matte browns and smoke them out with a sort of glitter halo effect in the middle, but first things first! Eye shadow primer. I've been using Mac's Paint Pot for a couple years now and it works great. Now, for the fun stuff, the palettes! The Urban Decay Naked Honey palette is my current fave, but I also love Anastasia's Norvina Palette. They have those perfect matte brown/neutral shades needed to make a killer smokey look and beautiful shimmers to boot. Pro tip: before applying your shimmer eyeshadow to your eye, spray the brush with the product on it with a setting spray. This will make the shade more bold like the color in the pan and less like a sheer version of it.
Eyeliners
Yup. I use 2-3 eyeliners in a makeup look. I know, it's a lot, but it's a MUST for me. The Marc Jacobs Highliner in black is the best for tighlining my upper lash line. I actually got it as a sample a while back and loved it so much that I've repurchased it three times and even got a shimmery brown version of it! For my bottom lash line, I use the Urban Decay's 24/7 Liner in Whiskey. As for a wing liner, it really depends on the day and event. If I'm feeling fierce, it calls for my Stila Liquid Liner. If I want a more subtle wing (which has been my go-to lately), I'll use my 24/7 liner again and smoke it out in an upwards motion. Basically, I try to look like Bella Hadid with her cat eyes. 😉 I then add by Benefit Better Than Mascara.
Face
Bronzer is non-negotiable in my routine, but I typically save the highlighter and blush for those 'extra' days. My bronzer is the Too Faced Chocolate Soleil and it's really the scent that has me going back to it for years and years! It smells like chocolate, but it's not a sickly sweet odor and it's everything. I even use it on my lids for my everyday makeup look. My highlighter is currently sold out. 🙁 It's the Urban Decay Mother of Dragons Palette from their Game of Thrones collection. I love it, and not just because of the GoT collab! As for my blush, well, it's new! I've only recently started wearing blush and it's the mini Nars Orgasm X. I actually ordered the normal orgasm (I felt so awkward typing that…), but got sent the wrong one! Cult Beauty was awesome and refunded me right away and let me keep the wrong item since the correct shade was now sold out. Thankfully, I ended up liking it. It's super intense, so a little goes a long way. Basically, it'll last me forever and I'm glad I got the mini size and not the regular.
Lips
I love me a good lip. For my lip liner, I've been using Charlotte Tilbury's Lip Cheat in Iconic Nude or Pillow Talk for every shade I own except red. I do overline my lips and that liner works wonders if you're into that. The lippie itself changes based on my outfit. However, the brand is almost always Kylie Cosmetics. With her, I'm in the same boat as Jeffree Star which I talked about in my Best and Worst Purchases of 2020 post. I adore her products, but I don't want to keep supporting her brand, so I'm currently on the lookout for a new lippie brand that can take her spot! In the mean time, Commando and Boy Bye are my absolute faves.
Finishing Touch For My Makeup Look!
I finish my makeup look with the Urban Decay All Nighter Setting Spray! This is probably the product that I've been using the longest. I once went out, forgot to use it, and noticed a pretty big difference in my makeup by the end of the night, and it wasn't good! Now, I never forget to apply it before I leave the house, even for my casual everyday look because I gotta keep that face on fleek, you know? 😉
Final Comments on My Go-To Makeup Look
There you have it guys! 90% of the time, these are the products that I'm using when I need something a little extra! It takes me about 20-30 minutes to do my face and even less if I skip the liquid liner. My actual every day make up takes me about 10 minutes and I use 6-7 of the products mentioned above, so it's pretty similar. As for glam, that's a different story. It can take anywhere from 45 minutes to an hour and 15 (really it depends on how much I struggle with applying my fake lashes!) and a lot more products that I didn't mention. If we're ever allowed to go out again, I'll make sure to post about it. 🙂
Have you used any of the products I mentioned above? Let me know! Also, feel free to comment your favorite lippies so that I can work on moving away from Kylie Cosmetics! 😉
Shop My Makeup!

XO, Tess
Subscribe
**Some of the above links are affiliate links, which means I get a small commission if you buy something using my link. You don't have to use them if you'd prefer not to. You do NOT get charged extra for using the above links.