One of the many perks of living in the south of France (or anywhere in Europe, really) is how close everything is since it's a smaller country. In the US, you could drive 8 hours and still look like you barely moved (or even change states!). In the south, 8 hours means Paris and that involves driving by the sea, mountains, forests, etc. This makes taking day trips a regular thing! Most recently, a friend and I decided to go to St Tropez to do some sight seeing, snap some pictures, and explore.
St. Tropez In The Summer or Winter?
This wasn't my first time in St Tropez. Actually, I went there last summer! It was a VERY hot day and I remember clearly melting under the heat. There were tourists everywhere and the streets were very crowded. Still, it was a very good day to get a feel for the tourist town at it's prime. However, don't expect to get any beautiful photos at any major landmarks (or anywhere, really!) without having people in the background.
On the flip side, St Tropez, like most summer villages, is an absolute ghost town in the winter! I couldn't believe how the streets were empty. On top of that, almost all of the boutiques are closed for the season. From what I hear, this seems to be a normal thing and not just pandemic influenced (although I'm sure that didn't help). However, I loved being able to take my time, explore the town, and get a real feel for it. I was able to stop and smell the roses, as they say. I got some amazing photos as well without worrying about crowds.
The Food
My favorite part of St Tropez was the food! Restaurants are now closed, but they weren't my first time around. I decided that I wanted a special lunch treat- I truly wanted to taste some of the best St Tropez has to offer! After all, celebrities seem to always make such a big deal out of spending the summer here, so I wanted to see what all of the hype was about. I settled for a restaurant called Le Girelier and boy oh boy, it did NOT disappoint! Neither did the check… But it was completely worth it!
We started with a Fois Gras appetizer as I wasn't vegetarian at the time. I was never a big fan of that type of food, but I'll be honest, it was really good! For our entrees, I settled on truffle linguine and my mom opted for the grilled gambas. We both thoroughly enjoyed our entrees. Finally, for dessert, she got a sorbet, but I went full on boujee with a champagne gourmand. In France, most restaurants have a cafe gourmand option which means you get a coffee and an random assortment of tiny pasties. Naturally, a two star Michelin restaurant in St Tropez would step it up with champagne. It quite possibly changed my life. I can't recommend this restaurant enough! If you find youself in the area when the world opens back up, do consider a reservation there. You certainly get what you pay for here.
Something else I recommend is heading over to La Tarte Tropezienne. The delicious pastry was created by Alexandre Micka in 1955 and named by actress Brigitte Bardot while she was filming in the area. It was the best I've ever had! Honestly, I wouldn't expect anything less from the founding store in the original location.
St. Tropez Luxury Shopping
One of the biggest appeals of St Tropez has to be all of the luxury boutiques that it holds! The two most popular ones being Dior and Chanel. Dior is absolutely STUNNING! First off, there is the Dior De Lices Café which serves branded coffee, pastries, and snacks. They also have these stunning mirror DIOR letters in the middle of a garden. The Dior building is covered in vines, while the inside truly looks like a museum. The boutique is more a tourist attraction than a store, so if you're in the area, I recommend going in and taking a look if you're into fashion. However, I wouldn't do my shopping at this location. Based on my experience, the sales associate seemed very annoyed with her job. I had every intention of purchasing sunglasses and perhaps a pair of shoes, but I decided against it based on her blasée attitude.
I did have a wonderful experience in Valentino, too. The sales associate was absolutely charming and it was a more than pleasurable experience. I didn't do any other luxury shopping/browsing, but there are so many different boutiques here to keep you busy! I may be biased, but when it comes to luxury shopping, I prefer the Cannes Croisette over St Tropez!
The Charming Streets
It's very easy to get swept up into the glam and glitz of it all, but I actually preferred my winter visit because of how much more quiet it is. You're truly able to get a feel for the town and see how beautiful the tiny streets and ancient buildings are. It's something I didn't notice my first time around due to the heat, the tourists, and, of course, the shopping.
Final Thoughts
Overall, I do find St Tropez to be a bit overrated. However, I do believe it should be a staple on everyone's bucket list. Just make sure not to focus the whole trip around it as it is quite small! St Tropez is beautiful and certainly has all of this expensive and luxury hype around it, but I much prefer my home of Cannes. Again, I may be totally biased here! 🙂 St Tropez truly sparkles in the summer and it's an absolute ghost town during the off season, which I think is a shame. It has so much to offer, but it seems that they want to keep the people coming back for the boujee experience. If you're able to, I'd consider visiting in both seasons and decide for yourself.
A Bonus…
Right next door to St Tropez, you have Port Grimaud which is a tiny, and stunning, little town. It doesn't take long to visit and it's worth it. It has colorful buildings and an adorable little port. Sainte Maxime is beautiful as well, but I've only driven through for now. Both towns are a great option when you want a break from the glam and want to see other beautiful neighboring towns!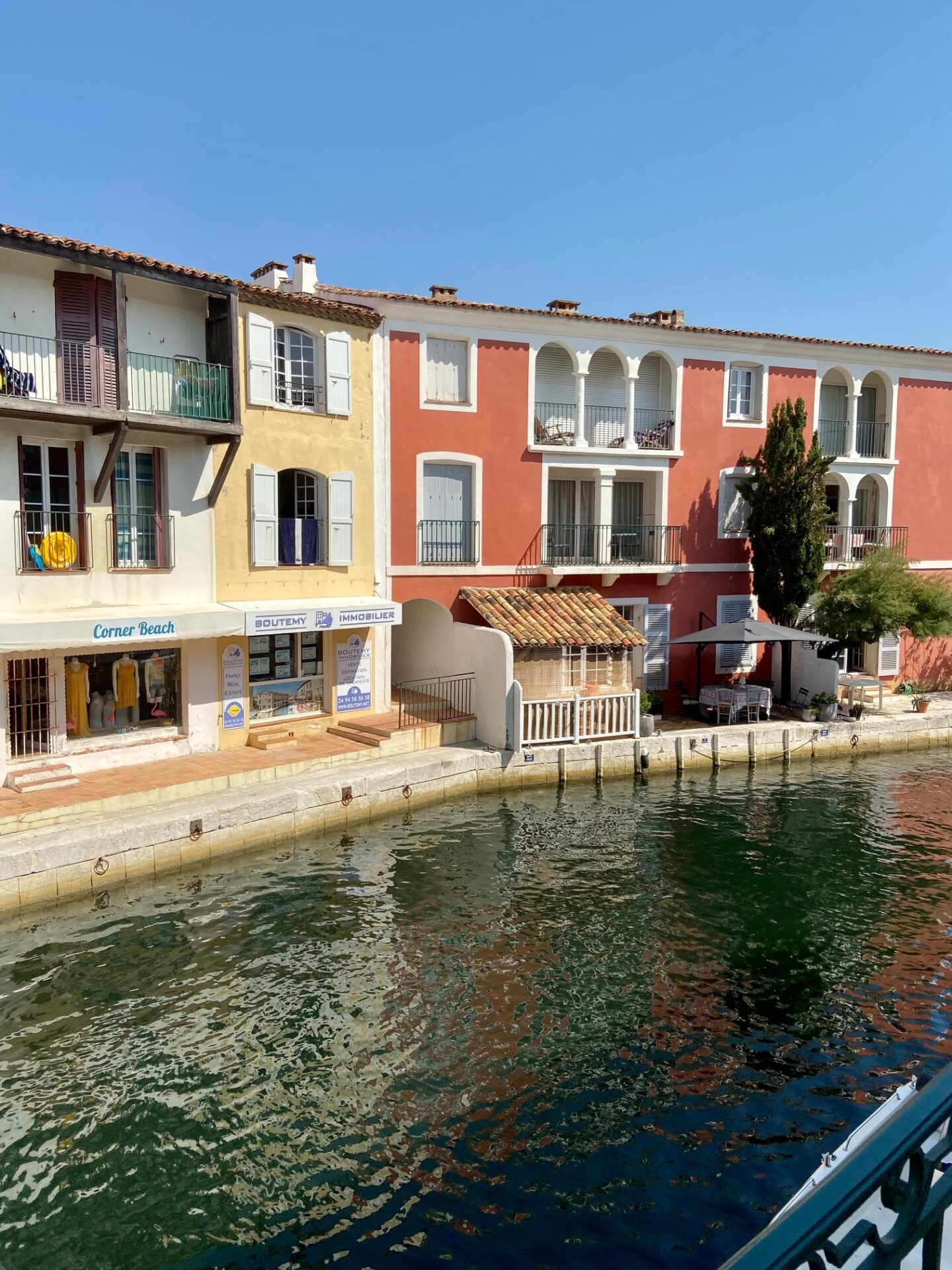 Is St. Tropez on your bucket list? Let me know below! Also, make sure to check out my Weekend Trip To Camargue post to see another side of my beautiful France and perhaps add another location to your list. 🙂
XO, Tess
Subscribe