When it comes to summer, my closet isn't the only thing getting changed, I also whip out the summer makeup! I tend to wear less makeup in the summer time because it's so darn hot. The last thing I need is for my makeup to be melting off of my face, you know? It's not a cute look… Not only that, but my pores feel SO clogged when I do my typical makeup routine on a hot summer's day. I've learned to limit the amount of products on my face and really focus on a few key points. As always, all products mentioned will be linked below. 🙂 You'll also find that I've switched to lots of mini versions of products. The reason for that is that I don't go through my makeup as quickly as I once did and that way, I waste less product.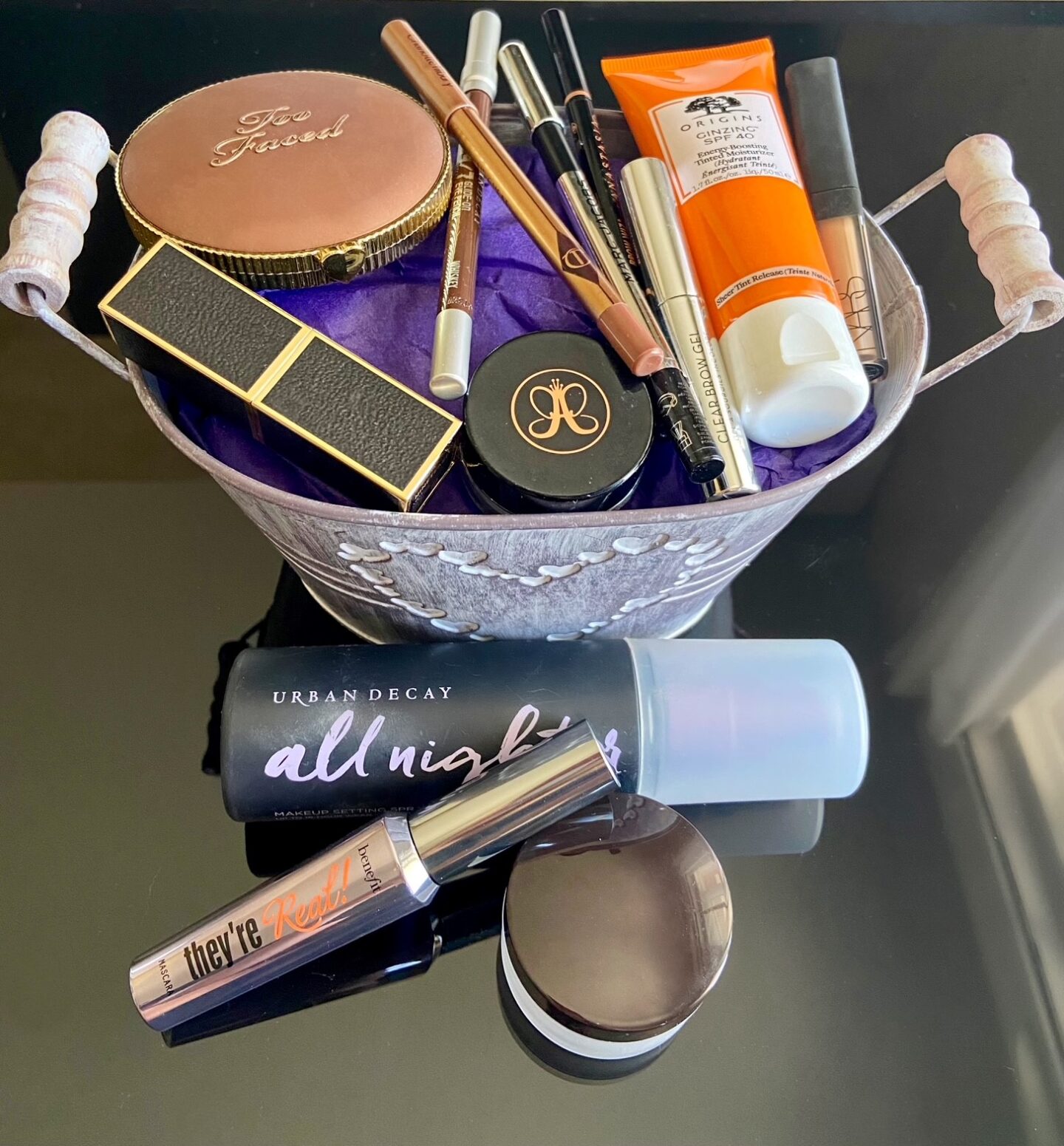 The Summer Makeup Base
Starting off my summer makeup routine is the base! Typically, I'll go in with my trusty Origins Tinted Moisturizer. I've mentioned this before in my Go-To Makeup Look, and I actually went back to using it once I ran out of my Nars Tinted Moisturizer. It has SPF 40 mixed in as well and I love me a good two in one product. However, when I'm more tan, I'll often skip the tinted moisturizer and opt for an over the counter facial SPF instead. Ladies – do NOT skip the SPF!
Next, I apply my Nars Creamy Concealer in the shade Tiramisu with a beauty blender. Concealer is something fairly new to me, but I love how it gets rid of those pesky dark circles! However, I will skip the concealer if I skip the tinted moisturizer.
My final step for my summer makeup base is powder. Lots and lots of powder. I use the Laura Mercier Translucent Powder and I apply a good amount all over my face, while really focusing on my t-zone. If I need a touch up throughout the day, I always carry my By Terry Pressed Powder in my purse. It's less messy to apply than a loose powder.
I skip contour, bronzer, blush, and highlight (except for a couple spots I'll mention below)! I find them to be too heavy in the summer and since I'm more tan, I just don't find them necessary. To be honest, I skip the base 50% of the time, especially when I have a good tan going on.
Eyes
Eye makeup is honestly my favorite! While you will rarely find me doing a full eyeshadow look in the summer, I still enjoy this step the most. I start off by using the Marc Jacobs Highliner in black on my upper water line. This helps make my lashes look fuller. Then, I'll use the Too Faced Chocolate Soleil Bronzer as my eyeshadow. Finally, I go in with my trusty Benefit They're Real mascara. If I could only use one makeup item for the rest of my life, it'd definitely be mascara. I love the stuff!
I also fill in my brows. Usually, I opt for the Anastasia Brow Wiz. However, I am just about out of product and I've decided to finish off my Anastasia Brow Dip in the shade Ebony instead. I have a very light hand when applying it because you can easily overdo it with this product. Sometimes, I'll set my brows with the Anastasia Clear Brow Gel and do the 'laminated' look.
My last step is to add a bit of highlighter to my brow bone and the inner corners of my eyes. I don't always do this step, but sometimes a girl just needs some extra shine in her life, you know?
Finishing Touches
I finish my summer makeup look with the Urban Decay All Nighter Setting Spray. This one is considered a cult favorite and I get why! I've been using the stuff since high school. If I'm meeting up with friends later, I may add a nude lipstick, such as Ninetease from Vieve with the Iconic Nude Lipcheat Pencil from Charlotte Tilbury. To be honest though, I tend to lean more towards the winged liner in the 24/7 Urban Decay Glide-On Eye Pencil in brown instead of a lippie. I'll smoke it out a bit to keep it looking more relaxed, too.
Final Thoughts On Summer Makeup
I recently attended the Cannes Film Festival and even for a major event like that, I didn't do much more with my makeup! I really don't like feeling like my face is weighing me down and being constantly worried about how my makeup looks. There are other things I have to worry about, you know?
If you live in a cooler climate, you may be able to wear more makeup and feel fine. I, however, have no such luck. The south of France has on average 300 days of sunshine a year. While that's glorious, it's not very friendly to makeup products no matter how much powder and setting spray you apply. It's not uncommon for me to leave the house with just mascara and my brows filled in.
Do you wear less makeup in the summer? Let me know!
Products Mentioned:


Subscribe
Make sure to subscribe in order to get a weekly email reminding you of my new blog post. 🙂 I appreciate you!
XO, Tess
**Some of the above links are affiliate links, which means I get a small commission if you buy something using my link. You don't have to use them if you'd prefer not to. You do NOT get charged extra for using the above links.