And she's back with a post about my best purchases of 2021! While I still consider myself in a hiatus, I couldn't end 2021 without a quick little blog post about my best purchases this year. If you've been following my blog for a bit, you may know that I switched over to a 'one item a month' mindset when it came to my shopping. I did some math to figure out how much I was spending on fashion a year (spoiler alert – it was alarming and mostly fast fashion!) and with that number, I divided it by 12 and came up with a monthly spending budget. This allowed me to invest in high quality pieces for my capsule wardrobe and stop overconsumption.
While this concept is amazing, I wasn't able to keep up with it as much as I wanted due to losing more weight and having to replenish my closet once again due to dropping a size! However, this is a concept that I plan to return to as soon as possible. With that being said, my best purchases of 2021 are a happy mix of both luxury and non-luxury. However, I'd have to say that my best purchase this year was my Versace Bathrobe. I already have a review of this item, which you can check out here, so I will not be including it in my best purchases of 2021 list.
Best Purchases: Vivienne Westwood Necklace
This bad boy was actually my February monthly purchase! It was an impulse buy as part of my final project for a Fashion Styling course I did earlier in the year. I thought it would go perfectly with my outfit for a concept and I was right! What I didn't see coming was how much I'd love and wear this necklace. She definitely earned her spot in my best purchases list as she's now one of my go-to's.
This necklace is perfect when wearing turtlenecks. It looks so chic over top of the rolled neck. It's also perfect in the summertime when you want to add a touch of elegance with the pearls. I did get the rose gold version, but I plan to invest in the silver and gold versions in the future because I wear it that much and sometimes, I want to mix up my metals! This necklace is often sold out, but I was extremely lucky and found it on the official Vivienne Westwood website. As of today, all three are available but there is a good chance they'll be sold out by the time you get to it. I recommend checking the site once a day if you're really wanting to get ahold of it as it tends to go back in stock quite frequently and sell out just as fast.
Best Purchases: H&M Boots
I know, I know. It's fast fashion but hear me out! The problem with fast fashion is overconsumption. As long as we shop in moderation, even during sales, it's okay. Of course, in terms of quality, the environment, and ethically, it's best to avoid these types of stores when we can. Personally, I turn to fast fashion when I want to test out a new trend before investing in the original. In this case, these boots are dupes for the luxury Paris Texas version. I wasn't sure if I would like this type of chunky boot and croc print on myself, so I went to H&M and decided to try their cheaper version first. As it turns out, I absolutely LOVE them! They've been getting a ton of wear this fall/winter and come next season, I plan to invest in the real version.
I was pleasantly surprised with the quality. I fully expected these to look cheap and end up in the return pile, but nope! They're super comfortable, look pretty legit, and they work with so many outfits. If you're considering the Paris Texas boots but don't want to spend that kind of money yet, I highly recommend these!
Best Purchases: Pinko Pants
Oh my goodness, these PANTS! I'm obsessed. You've probably seen these a few times on my blog and with good reason. I love wearing white and I found myself turning to these pants a ton this summer, especially since they're very breathable in the heat. I actually kept wearing them into the fall months with my H&M boots mentioned above.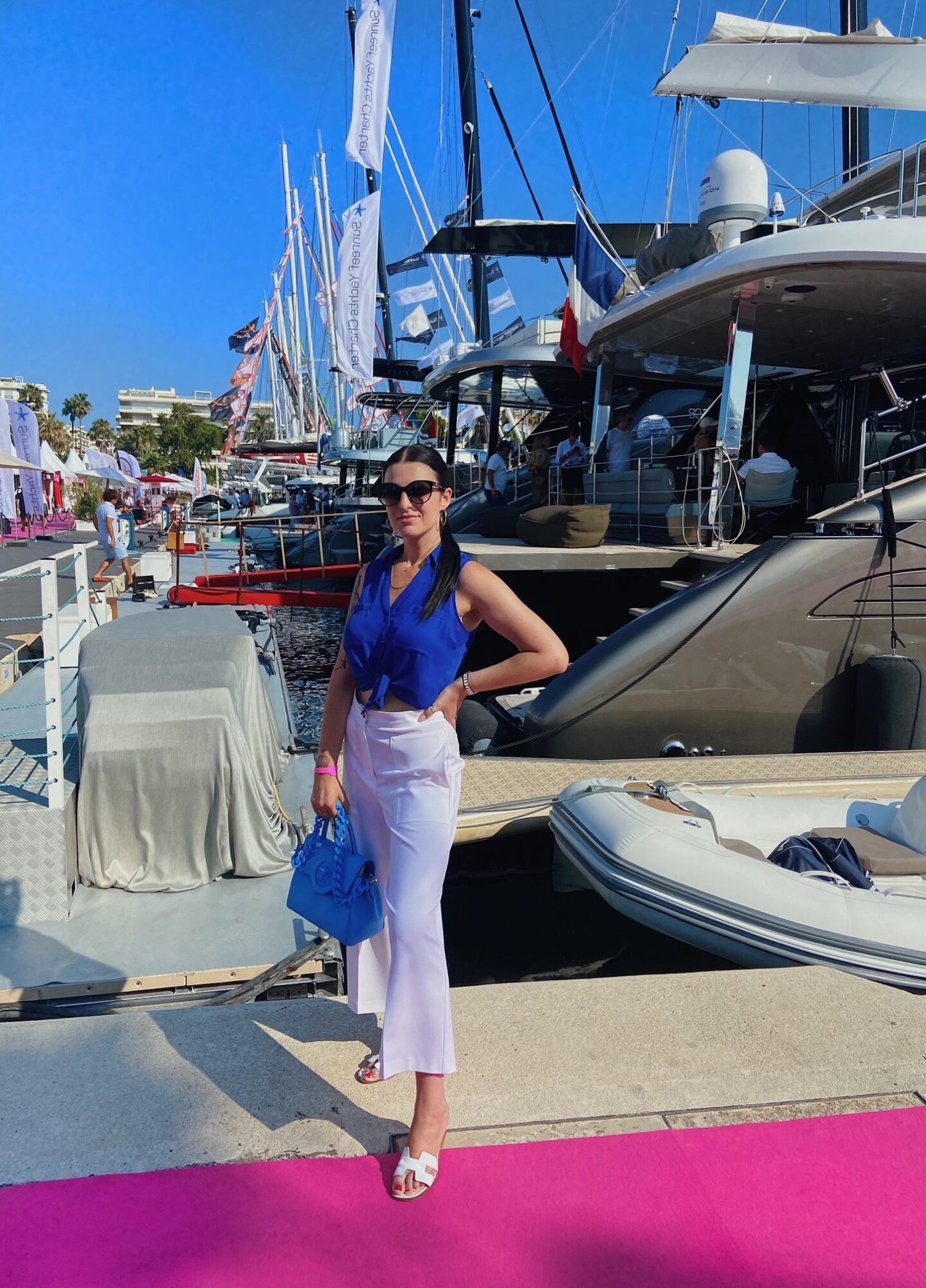 They're super comfortable, stretchy, and very flattering on the body. And they have MASSIVE pockets. It's a win all around. The only negative is that they're quite see-through, so plan your undergarments accordingly. I wanted to purchase the black version, but sadly, both colors are now sold out. If Pinko ever decides to bring the scuba pant back, I'll be rushing to purchase it! They're such a classic piece and are easy to dress up or down, but still look chic and well put together.
Best Purchases: Jimmy Choo Sandals
These sandals were April's monthly purchase. I was in the market for a pair of white heeled day-time sandals to give my Hermès Oran a break and to give myself a bit of height, too. I do love my heels! It was between these and a pair of Bottega Veneta sandals and I am SO happy that I went for Jimmy Choo! That brand just never lets me down. They're super cute, comfortable, and elevate any outfit. I've literally walked miles in these.
Unfortunately, I wasn't very careful with these and scuffed the heel pretty badly to the point of the leather peeling off. Thankfully, my sales associate at Jimmy Choo was able to send them off to Italy to have the heels fully replaced for a very reasonable price! It did, however, take a couple of months. I can't tell you how much I missed wearing these when they were getting fixed, but I'm so very grateful that they're fixed and in my collection.
Best Purchases: NA-KD Faux Leather Trousers
A recent purchase, but very worthy of my 2021 list! Leather has been trending for a minute now and I'm loving every single second of it. Leather will never be out of style, but the fact that it's trending means that it's available everywhere and in all forms. After wearing my leather shorts to death this past year, I decided it was time to try out the trouser version to see if it would go with my fall/winter style. I was pretty on the fence about it because I didn't find them very versatile, but I was happily proven wrong. I'm able to wear these bad boys casually with some white leather sneakers or dress them up with heels or booties. I've even tucked them into a pair of combat boots for an edgy streetstyle look!
The only downside is the pockets as they tend to stick out on the sides. Other than that, I'm very happy with them. They're super soft, comfy, and a fashion statement. I get compliments every time I wear them. This is another piece I plan to upgrade next season. I'm thinking Pinko, but time will tell.
Final Thoughts
And there you have it, my best purchases for 2021! Thankfully, I didn't have any bad purchases this year. This is simply because I'm a personal shopper and stylist and I'm very mindful with my purchases as I'm working on curating the perfect capsule wardrobe. Long gone are the days of fast fashion hanging in my closet with the tags still on! 😉
As a friendly reminder, I'm still on a hiatus at the moment, but I'm hoping to post on Allure by Tess again sometime next year. However, I'll more than likely drop it down to 1-2 posts a month instead of weekly. This will allow me to give you that high quality content you deserve. 🙂 I appreciate you sticking with me during this period!
Details:
Vivienne Westwood Necklace: (gold, rose gold, silver)
H&M Knee-High Boots: (here)
Pinko Scuba Pants: (similar)
Jimmy Choo Sandals: (similar, black version, flat)
NA-KD Leather Trousers: (here)
SUBSCRIBE
Make sure to subscribe in order to get a weekly email reminding you of my new blog post. 🙂 I appreciate you!
XO, Tess
**Some of the above links are affiliate links, which means I get a small commission if you buy something using my link. You don't have to use them if you'd prefer not to. You do NOT get charged extra for using the above links.